One of the things I like to take the time and effort of making is making my own hamburger. Not on the level of slaughtering my own cow and pig or from chunks of meat and fat to my own specifications, but at the least from mince. I'm not fond of 'just meat' burgers; I like my burger seasoned. I also don't just have beef burger; my burgers are a mix of beef and pork ground meat – 2 kg beef to 1 kg pork. (So this will always be a minimum of 3kg meat.) This was a recipe that my parents used to make, and we lost at one point, until I decided to try recreate it. I remember my mother soaking slices of bread in milk while preparing the other seasonings, but I use breadcrumbs instead.
Since I usually make this as a large batch, the proportions of everything else is 'per kilo.' The last batch I made was 9 kg of meat.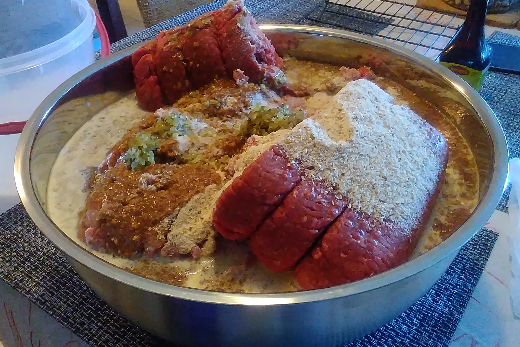 Maybe I should have pre-mixed the pork and beef first, or at least pulled it apart in chunks and sort of distributed them a bit more evenly, but I was rushed. That's a huge metal basin; I'm really happy I found it in Costco. The Housemate didn't think I would need something this big, but The Husband knows about my periodic urges to ensure the freezer is stocked with something delicious, so… It's only fortunate that this just fits the bottom of my fridge too, because this has an overnight marinate time before I shape the patties.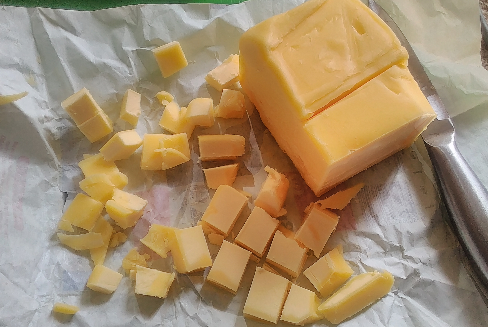 For this particular batch I did something that I thought might make the burgers yummier when cooked, which was cut up chunks of butter and a cube or two in the middle of the patty.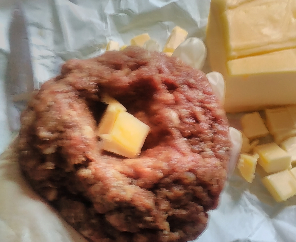 I reform the meat into a ball again and flatten into a patty.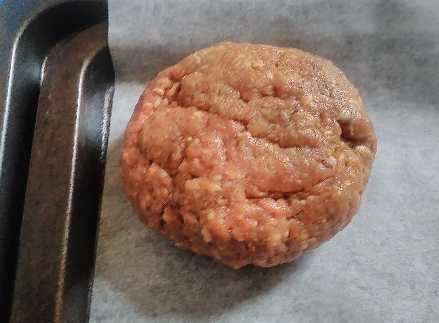 Which I then put onto a tray lined with baking paper for freezing. I usually put two layers of patties before putting them to freeze.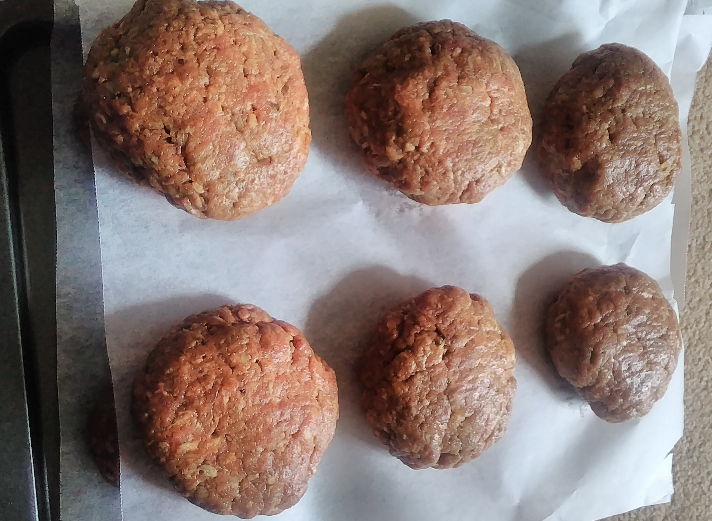 For a batch as large as the one I made (I sat in front of the TV to watch while making this, so I had newspaper spread on the carpet) be prepared to set aside at least two days of prep work. For the smallest possible batch, you won't need as long – start in the morning, marinate through the day, fry up burgery goodness for dinner! I'd suggest making smaller, flatter patties than the steaks I made though for putting between buns! I tend to cook these up in the oven with a sauce as a boneless alternative to steak (like my Gamer Wife's Hamburger in Gravy.)
You can also make large batches of meatballs with this, or make patties and meatballs, to give you even more dinner options!
Rory's Burger
You'll need at least 3kg of meat, so the proportion of the patty is up to you! Freeze any patties you don't think you'll need for future meals. The proportion of beef to pork I use is 2kg of beef to 1kg of pork, and this is the base recipe.
Prep Time 2 hrs
Total Time 2 hrs 6 mins
Course Main Dish
Cuisine OAMC / Freezer fillers, Western
Ingredients
2 kg minced beef meat
1 kg pork mince
1 package dry onion soup mix Can reduce to 1/2 package per kilo of meat.
1 tsp garlic powder per kilo of meat
1/4 to 1/2 cup breadcrumbs per kilo of meat
1 tsp Worchestershire sauce per kilo of meat
1 tsp ground black pepper per kilo of meat
2-4 teaspoons sweet pickle relish per kilo meat, use tea spoon, the spoon used for stirring your coffee.
1/3 cup ketchup I use Heinz brand
1/4-1/3 cup milk per kilo of meat
1/8 cup dried onion flakes per kilo of meat
1-2 eggs per kilo of meat
Instructions
Open packages of minced meat and divide into smaller clumps. Place the clumps into a large bowl, distributing the beef and pork into more-or less even proportions.
Add the bread crumbs. Set aside the bowl.
In another bowl add all other ingredients except the sweet pickle relish. Mix it all together with an electric beater or in a blender.
Pour the mixed seasonings on the meat and breadcrumbs. Add sweet pickle relish.
With gloved hands, work in the seasonings into the meat and breadcrumbs until well incorporated and everything looks mixed evenly.
Cover bowl with plastic wrap and place in fridge. Length of time depends on the amount of meat used. If it's the minimum 3kg, 4-6 hours of marinate/sit time; more than that will need overnight at least to allow the meat's flavour to absorb into the meat.
Prepare baking trays: line trays with baking paper. If choosing to add butter cubes, start cubing butter.
Set out your work area with the bowl of meat and trays.
Take into gloved hands the amount of meat mix you want for your patty. If you want butter in the middle, place a cube in the middle of your ball of meat, reform the ball and press slightly into patty shape.
Place patties on the prepared trays. If wished, place another layer of baking paper on top and another layer of patties; no more than two layers of patties. Place another layer of baking paper on top to protect the patties and put in freezer, if freezing.
Freeze for at least 8 hours, before removing burger patties to zip lock bagged portions.
Use burger patties as you wish. Recipe is also good for meatballs (freeze in the same way.)