I'm in Australia. So really, the elections in the US, and the circus that's been going around it, have been an occasional source of entertainment for me. I've really been too busy to keep track. But as I said over in Monster Hunter Nation: I'm ecstatic that Trump won because that means Hillary lost. And I was someone who was reading Clinton and the media's behavior as "They've rigged the election, they know something's been done." Nobody's happier than I am to be wrong on that score.
At any rate, I had delicious popcorn, and one of the local news channels was doing a 'live, as it happens' show of the elections called America Decides. As far as commentators go, it was actually fairly even-handed, which surprised me, so I stuck with that show. Rhys came home, and laughed when he saw me watching the elections with popcorn.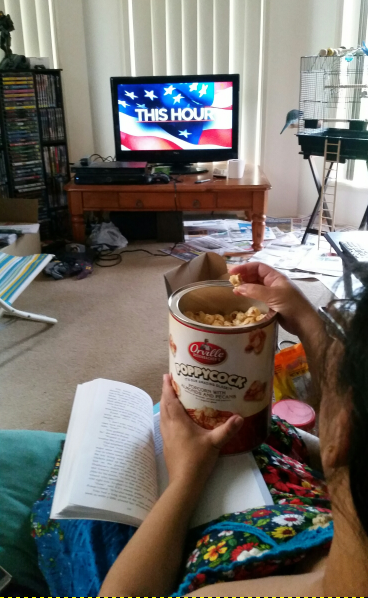 That popcorn's yummy.
The moment that he decides to get serious about running:
It's surreal to watch this 2011 video of Obama and Seth Meyers taunting Trump about a presidential run pic.twitter.com/XkZNGmzcUx

— Business Insider (@businessinsider) November 9, 2016
Because, really, that's just asking for it.
Before I get the usual screaming, I didn't like Hillary because Benghazi and all the other shit she's recently done, and all her history from before, and her aiding and abetting her husband in escaping rape accusations. Frankly, I think we escaped getting into a World War for certain with her losing the Presidency. Trump? We have a maybe on that score now.
Why did Trump win?
This. ?????? pic.twitter.com/pPRpdi2ySF

— Rita Panahi (@RitaPanahi) November 9, 2016
https://www.facebook.com/JonathanPieReporter/videos/1044777035645189/
And the above, because woah.