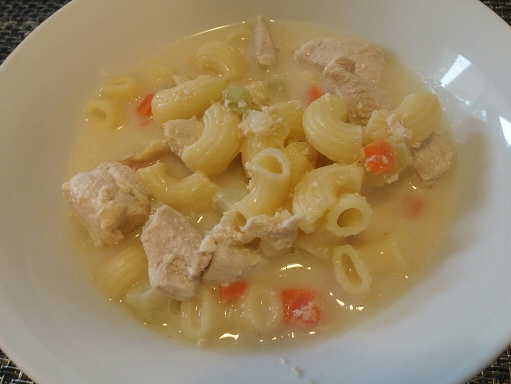 Quick, light and easy, this soup suits both cold nights and summer days back in the Philippines. Some versions include using diced Tender Juicy Hotdog (which resembles the red-covered frankfurter, but tastes different) or diced ham. This is the simplest version in the family and is also a nice side dish, especially if the chicken is cut into even smaller cubes.
It can also be made with chopped up store-bought roast chicken meat, cutting down the cook time even more.
Speaking of Tender Juicy Hotdog, it's one of the things I really, really miss about the Philippines (I have found the things I miss the most from there are the foodstuff, ranging from street food, to junk food and convenience store food, to restaurants and cuisine.) I used to have them for lunch, cooked in butter, in a hot dog bun, topped with mayonaise and ketchup. I thought I saw some in the Asian grocery a couple of weeks ago, but I was unsure if it was the same thing. Having spotted that article I linked though, I may give it a go.
It was also one of the things I have a funny Mum memory of. It was a hot day, and my mother, the maids, my daughter and I had taken a nap to escape the heat. Miyu was only 3 or 4 at the time, and must have woken up hungry. She didn't wake any of us, but had tried to prepare herself her own food. We saw the evidence of this when we woke up (and she'd gone back to sleep) – there was a chair pushed up to the fridge, and another next to the sink and stovetop. On the stovetop was a cooking pot, with four slender hotdogs in it, with water ready to boil. The rest of the packet was in the freezer, and the hot dog plastic casings had been removed and left in the sink.
She had remembered the steps up to that point from observing the grownups, but didn't know how to turn the (gas) stovetop on. We praised her for her independence  but warned her that it was too dangerous for her to try turn on the stovetop, and she should wake us if she wanted food.
Chicken Sopas
Simple, delicious and easy, also a hit with the kids! Cut time by using chopped up roast chicken, if you like!
Ingredients
250 g elbow or straight macaroni can pre-cook
3 pieces small carrots diced into small cubes
3 pieces medium potatoes diced into small cubes
350-500 grams chicken diced or strips
1-2 chicken stock boullion cube
1 can evaporated milk
salt and pepper to taste
1 tsp ginger (I use jarred minced ginger)
1-2 tsp garlic minced / jarred
1 tbsp patis fish sauce
1 medium onion diced
oil or butter for frying
Instructions
In a large saucepan, melt butter or coat the bottom with oil, and sauté the onion, ginger and garlic til the onion is slightly translucent.
Add the chicken and brown lightly. Halfway through, add the boullion cube (Use only one if using two total in the recipe.)
Add the vegetables, second cube if using, and cover with enough water to cover meat and vegetables. Season with salt and pepper and patis. Let boil and then simmer until meat is cooked and vegetables are tender.
While stirring, add the evaporated milk. Add the cooked macaroni, enough water to give everyone a decent soup. and season to taste Bring to a boil again.
Serve and enjoy!
Save
Save
Save
Save
Save
Save