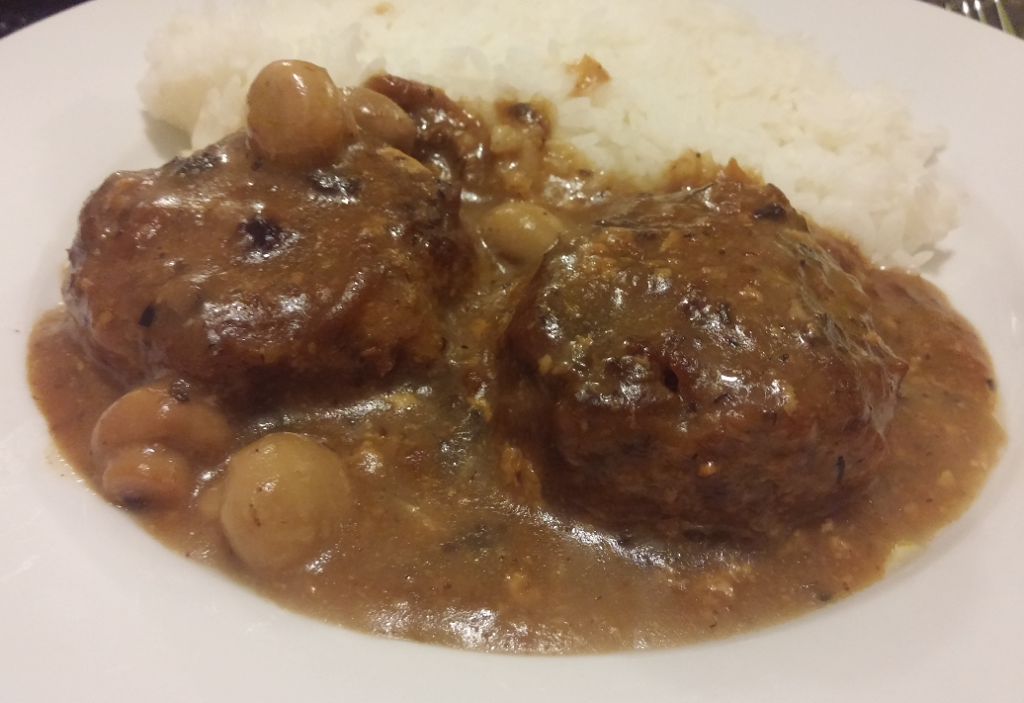 This is one of my 'I'm busy and I need to get food on the table' go-tos. I usually make this with home made hamburger patties; but I reckon you could do well with store-bought. With a hearty gravy with mushrooms, I almost never have leftovers – and if there are any, it's meant for my hubby's lunch the next day. Well, if he leaves any – he'll walk in through the door and one of the things he'll ask me is when it's ready to eat.
I usually serve this on it's own, over steamed rice or mashed potatoes, but it would go nicely with steamed vegetables, or with the addition of canned carrots and peas (the liquid drained away) to the meat while it cooks.
Gamer Wife Hamburgers in Gravy
Delicious, protein-rich and satisfying, it's great for feeding a crowd in short order and for cheap. You can add canned carrots and beans if you like, but we find it stands well on it's own, served over mashed potatoes or steamed rice.
Ingredients
8-10 burger patties
1 can cream of mushroom soup I prefer using Campbell's; but use any brand you like! Keep the can for water measurement
1 packet instant onion soup
3 tbsp gravy powder
1 small can button mushrooms
Instructions
Spray a ceramic or glass casserole dish with oil, or rub a little butter, to coat. Arrange burgers in it and set aside.
In a bowl, put the cream of mushroom soup's contents. Add the rest of the ingredients. Using the can measure out 2-3 canfuls of water and add to the bowl. Mix thoroughly, until the soup and the gravy powder is dissolved.
Pour the gravy mixture over the burger patties, shaking the dish to distribute it across the burgers.
Cover the dish, and put in the oven at 180 degrees centigrade. Cook for an hour, then remove the cover and cook for another twenty minutes.
Serve over hot rice, or mashed potatoes.
Save
Save
Save