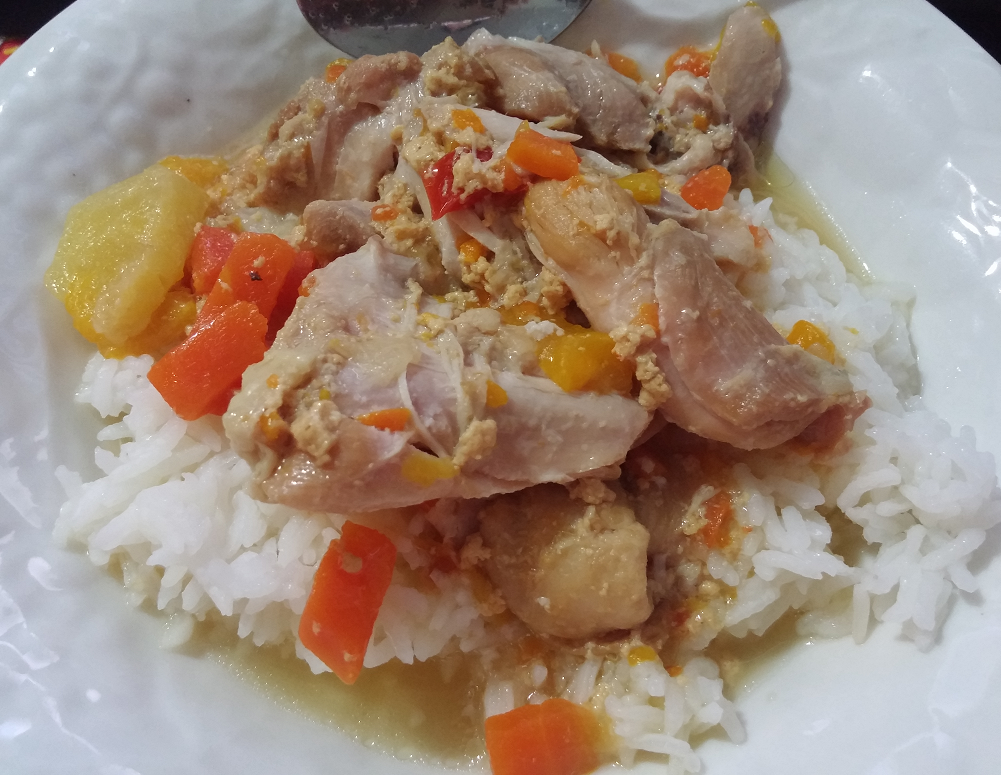 This is a lovely, summery dish that goes for a savoury sweet flavour instead of the usual sweet-n-sour. Unusually, it also uses evaporated milk as part of the broth, yet doesn't end up soured. In the Philippines, we call this pininyahang manok. I think it makes a good midweek dinner; and my kids definitely agree.
Save
Save
Pineapple Chicken
A quick and easy chicken dish that's sure to please!
Ingredients
1 1/2 kg chicken thigh fillets
1 large can Dole Pineapple Chunks juice reserved
2 medium sized carrots cut into cubes
330 ml evaporated milk
2 chicken broth cubes
1 tsp garlic powder
1-2 tbsp raw sugar
1 medium onion diced
Instructions
Marinate the chicken thigh meat in the pineapple juice for 30 minutes.
In a pot, sautee onions and garlic powder in a little oil until onions are translucent. Add chicken cubes and chicken thighs and brown. Keep the marinade.
When the chicken thighs are browned, add the marinade, carrots, and enough water to just barely cover the meat. Allow to boil for 20 minutes.
Add the sugar and stir through. While stirring, pour the evaporated milk, stirring all the while. Allow to bubble again, and add the pineapple chunks.
Simmer for another 10 minutes, stirring frequently. Serve with white steamed rice.