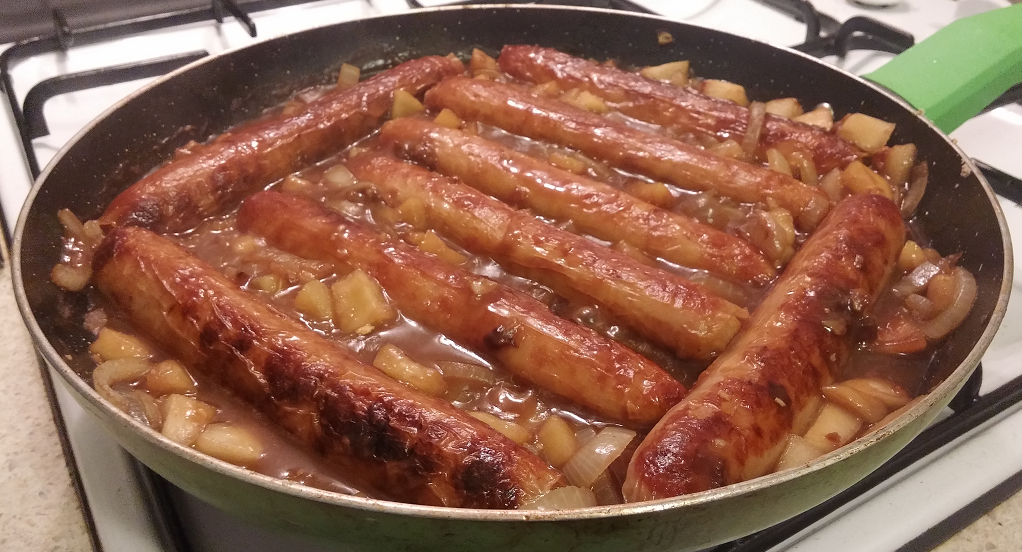 This is an adaptation of the apples n' onions recipe that I read about in Farmer Boy back when I was in grade 5. it makes for a very straightforward and flavorsome meal. My husband prepared this while he was out field and he proudly reported that some of the guys came back for thirds – everyone, apparently had seconds!
Save
Pork Sausage with Apples n Onions
Quick, flavourful and satisfying; best served with mashed potatoes and buttered damper buns!
Ingredients
1 package pork sausage
2-4 apples peeled, cored and diced
2 large onions peeled and diced, or cut into rings
4 tbsp butter
1 cup apple juice
1 package instant onion soup
salt and pepper to taste
2 tbsp corn starch dissolved in water
Instructions
In a large frying pan, melt butter, and caramelize onions.
Brown sausage in batches, and remove as they brown.
Deglaze pan with the apple juice, and add the onion soup.
Stir soup until dissolved, and add apples.
Return sausage to pan and cook, covered, until sausage is cooked completely through and apples are just soft, about 20 minutes
Remove sausage to serving dish.
Add corn starch dissolved in water into the sauce, stirring rapidly as you pour it in. Thicken the sauce; another 5 to 10 minutes of cooking.
Pour sauce, apples and onions over the sausages; serve and enjoy!