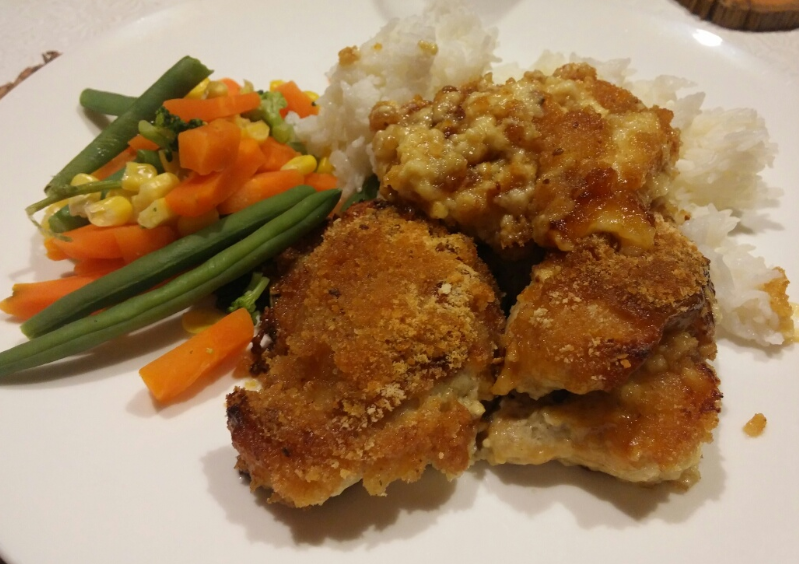 My family looooves this, because it results in such a flavourful and tender meat dish. It's also a bit expensive because of the use of whole jars of ingredients (at least, over here in Australia) so it's a treat. For folks who are looking for a quick, easy main to serve for a crowd of guests, this is a good recipe to go for (and is similarly easy to scale down.)
I scaled the recipe for four people, but this really depends on how big your chicken thigh fillets are. If they're bigger, a single one might suffice per person, while smaller ones (as with the photo) two per person makes for a filling meal, if you include sides.
You can also coat the seasoned fillets individually before placing them in the dish, which makes for somewhat easier scooping out but more effort beforehand.
Honey Mustard Chicken Bake
A flavourful dish that is easy to scale up or down depending on how many people you want to serve! Great for family dinners and having guests alike! The extra crumbed sauce makes a good topping for potatoes or rice.
Ingredients
8 pieces chicken thigh fillets
275 gram honey mustard bottle
300 gram bottle of mayonnaise
2-3 tablespoons honey
breadcrumbs as needed
Instructions
Mix mayonnaise, honey mustard and honey together in a bowl until well blended. (You may adjust mustard/mayo/honey ratios to taste if desired.)
Coat chicken pieces, then arrange in a lightly greased baking dish.
Pour mayo-mustard mix between and atop chicken pieces. Shake dish lightly to get between the gaps.
Spoon breadcrumbs on top of chicken and sauce, enough to make a crust. I prefer a slightly thicker crust to help absorb the mayo-mustard mix. This results in a lovely topping that can be spooned on top of either potatoes or steamed white rice.
Cover dish with foil and allow to marinade in the refrigerator for 45 minutes, or overnight if desired.
Bake in oven at 180 degrees centigrade for an hour and fifteen minutes.
Remove the foil and allow to bake for another 15 minutes.
Serve with rice, and steamed vegetables.
Save