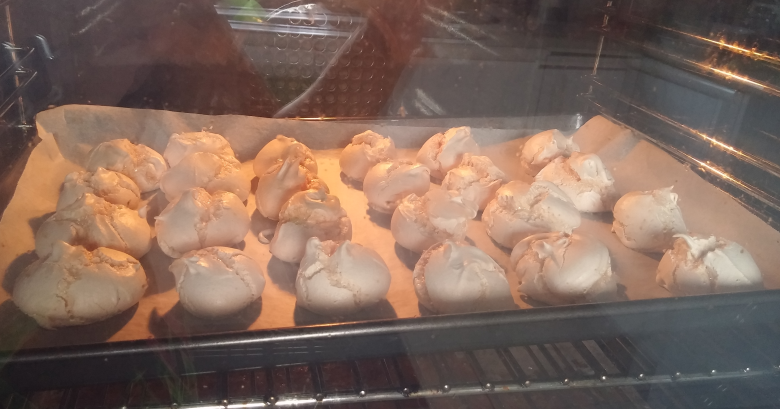 I've been doing a lot of running around on errands so I haven't posted recently. My blood sugar dropped a lot so I found myself craving sweet things.
So I decided to take the plunge and made meringues for the first time.
Sounds silly I know, but I've had this thing about being afraid of screwing up the egg whites. I had a box of egg whites in my fridge that I bought and felt, if I never take the risk, I'll never do it!
So I made this batch of brain food and boy, am I glad I did! (here's a BBC Food's recipe for meringue, it's slightly different.)
Basic Meringues
4 large egg whites (if using egg whites from a box, 8 tablespoons) at room temperature
1/4  teaspoon cream of tartar powder
3/4 c caster sugar to 1 cup caster sugar
1 pinch salt
Preheat oven to 180 degrees centigrade. (roughly 300 degrees F?)
In a stand mixer bowl, put eggs, cream of tartar and salt. With the whisk attachment beat egg whites on medium high until the whites are foamy and just start to foam soft peaks. Increase speed to high and gradually add in sugar, beating until the mixture forms stiff peaks.
Drop by teaspoonfuls, or pipe 1 inch apart on prepared cookie sheets (with baking paper.)
Bake for 1 1/2 hours. Turn off oven and leave meringues in there for another hour until completely cool. Store in an airtight cookie jar for up to 2 weeks, if they last that long.

Variations:
Coffee Meringues – recipe adapted from here

Add 1 packet instant espresso powder after the stiff peak stage, mixing in the flavor for another minute. If using instant coffee, 1 tablespoon.
Mocha Meringues
Add 1 tsp instant espressor or coffee powder
2 tbsp unsweetened cocoa powder
1 tsp vanilla extract
Peppermint Meringues – recipe adapted from here

1/2 tsp mint extract (may need to adjust for taste)
3 drops of green food coloring (or red) (adjust for depth of desired color)
Add the mint flavor at the start with the cream of tartar.
For stripes, dot the coloring onto the meringue, swirl slightly, then spoon onto the sheet, or spoon into a piping bag/ziplock bag to pipe out. May also add crushed mint candy as desired. I just went with green food coloring, which I really should fold in after the mixture is at stiff peak stage.
and saving the best for last…
Nutella Meringues
Add: 1/4 cup Nutella and fold in with a spatula three or four times, to avoid deflating the meringue.
These are just the basic ones, and there's plenty of recipes out there that allow for so many delicious variations! Dip them in chocolate, make pavlova, or fold in chocolate chips and other surprises.
Save