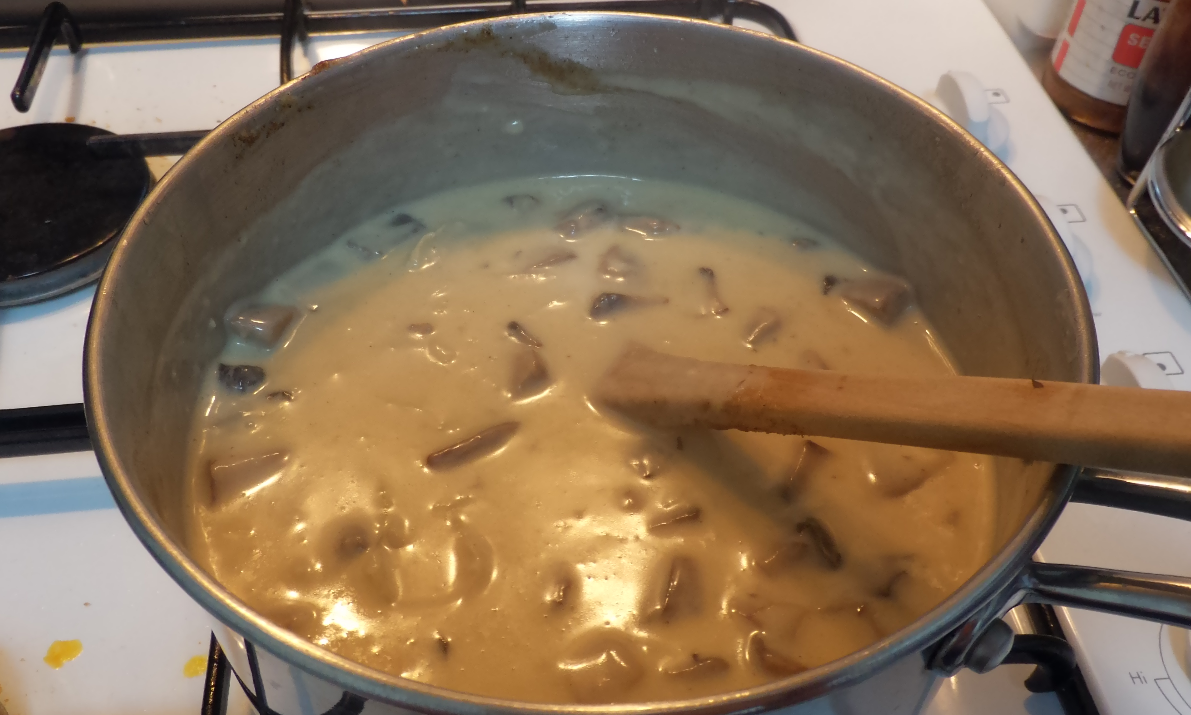 There's a restaurant who has a small 'fast food' version of their pub food at our local mall. I love the place. They make delicious steak, and it's got a mushroom sauce that they have with the thick sliced chips… oh, heaven. I love the stuff.
They're local to the state I'm in though, so I figured I'd try to reverse…uhm… engineer? their sauce. I probably should have chopped up the mushrooms into much smaller pieces, to better get a mushroom flavor throughout. I am not too far off, mostly because I'm erring on the side of caution on the saltiness (I'm kind of aware at the moment that my sense of taste is a bit off thanks to a recent cold) but that's not too bad, all considered.
The amount of butter is essential though, as is the cream, because you want a creamy, smooth sauce.
Portabello Mushroom Cream Sauce
A lovely sauce with chopped up portabello mushrooms, that's really good to have with steak and for dipping with thick-cut chips (French fries). You can refrigerate the rest!
500g portabello mushrooms, finely chopped
300-500 ml thick cream (can substitute with sour cream)
1-2 cup shredded light cheddar cheese
50g butter
1c finely chopped onion
1tbsp flour, dissolved in water, as a slurry
500ml water
3-4 tsp seasoned salt
3 tsp garlic, mashed
In a saucepan, melt half the butter and brown the onion and the garlic.
Add the mushroom and cook through until you smell that lovely 'cooked mushroom' meaty smell.
Pour the cream, stirring vigorously and then add the water.
Stirring all the while, add the cheese. 1/4c at a time. Season with salt as you stir.
Allow to come to a boil as you stir. When it's boiling, add the flour slurry while stirring quickly. Keep stirring as the flour thickens.
Add the other half of the butter, stirring until it melts through. Taste and season the sauce to your liking.
Serve with steak and chips/fries, or have as a dipping sauce with chips. Refrigerate leftovers in portions or freeze for later eating. Also good on rice.