Mocha Chiffon Cake – Filipino Style aka "Goldilocks Style"
This is my own version of the Filipino style Mocha Chiffon Cake that I did a roll cake of the last time.  I use more coffee in the mix,  as I found that the flavour was a little too mild otherwise.
The little coffee bean chocolates came from the Phiippines, and are basically ground coffee granules, in very dark, very coffee-infused chocolate. They are yum.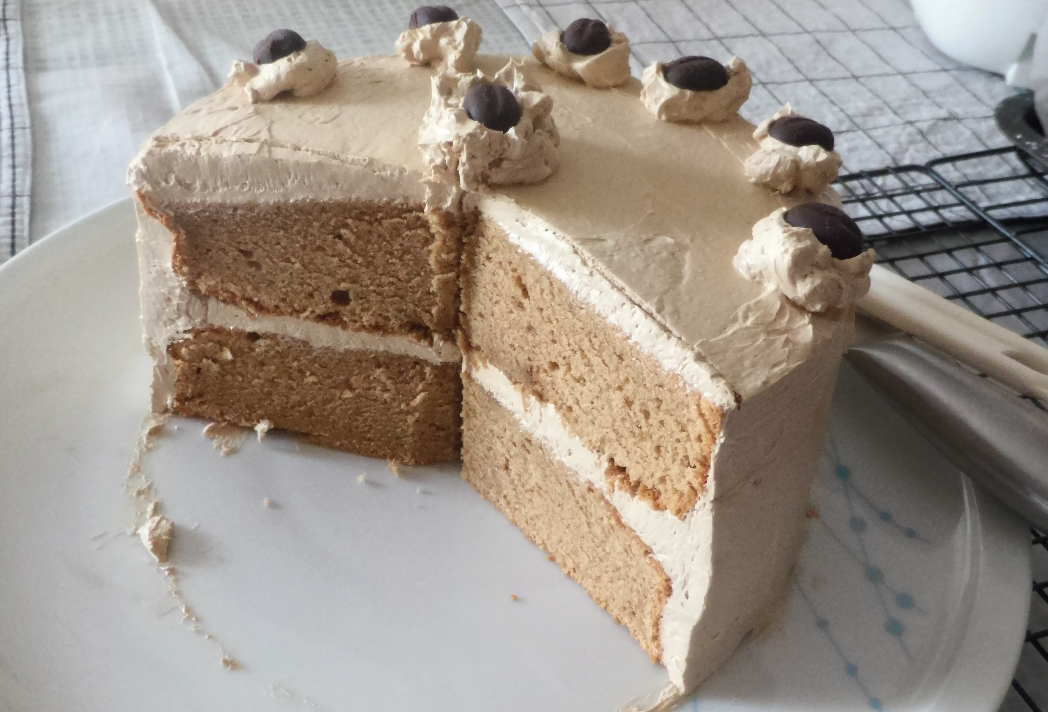 I like my cakes moist and buttery, so you may want to experiment and reduce the butter on the recipe of the cake. Have fun and enjoy!
Filipino-Style Mocha Chiffon Cake
A moist, yet fluffy chiffon cake filled with surprisingly light coffee flavor, covered in smooth meringue buttercream frosting.
Ingredients
FOR THE CHIFFON CAKE:
6 large egg yolks
1 cup sugar (I use raw sugar or brown, but you can use white if you like.)
2-3 tbsp Nestle Instant Coffee (or instant coffee of your choice)
1 tsp unsweetened Dutch cocoa powder
1 tbsp vanilla
1 cup melted butter (can substitute with canola oil)
1 cup cake flour or all purpose flour
1 tsp baking powder
6 large egg whites (from the separated egg yolks mentioned before)
1 tsp cream of tartar powder
For the meringue buttercream
1/4-1/2 cup egg whites (or 4 large egg whites), room temperature
1-2 cups fine white sugar or icing sugar
1 1/2 cup butter room temperature, cubed
2 – 3 tbsp instant coffee granules / powder
1 tsp unsweetened Dutch cocoa powder
5 tbsp milk
1 tbsp vanilla extract
Instructions
Make the cake:
Prepare the baking pans. Spray with cooking spray or brush with melted butter. Dust with flour and ensure the pan is coated. Shake out the excess. Wrap the outside of the pan tightly with baking foil if using a springform pan, or if the bottom helpfully comes off.

Whisk egg yolks and sugar together until pale yellow and creamy

Dissolve coffee & cocoa powder in a tablespoon of hot water, stirring. Pour into egg mixture with melted butter, and beat until well combined.

Sift flour and baking powder into a bowl and fold in with wooden spoon or with the stand mixer's paddle attachment.

In a separate bowl, whisk the 6 egg whites & cream of tartar on high until they form stiff peaks. Fold into mocha batter, until just incorporated.

Divide into 2 prepared 8-inch cake pans. Place each pan onto a baking sheet. Pour water into the baking sheet until it comes up 2-3 cm on the side of the cake pans. Place into oven.

Bake at 180 degrees centigrade, for 20-25 minutes or until a bamboo skewer inserted into the middle comes out with just a few crumbs attached.

Cool on a wire rack, for 10 minutes, before removing completely from the baking pans to cool on wire rack.

Cool completely (even overnight) before frosting.
Make the frosting:
Set your mixing bowl in a pan of simmering water (for ease of use, use your stand mixer's bowl) and whisk egg whites and sugar for 3 to 5 minutes, until fluffy, marshmallow-like and hot. You may need a separate hand-held electric hand mixer for this.

Remove bowl from heat, scrape the handheld's whisks free of marshmallow meringue, and then using your stand mixer, beat the meringue for another 5 minutes with the whisk attachment.

Add half the butter and beat until smooth. (You may opt to use the paddle attachment for this, or stay with the whisk attachment) Add the rest of the butter, beat until smooth again. Scrape sides, stir buttercream mixture quickly, then go back to beating for 6 to 10 minutes.

Dissolve cocoa, coffee and vanilla extract in a very small amount of hot water, stirring vigorously.

Add to buttercream and beat on high for a further 2-3 minutes, scraping as needed.

Use to put a layer of buttercream between the cakes, and to frost and decorate the cake.