I made my jump from MS Word to LibreOffice the same time I made a pretty huge jump from Windows to Linux (Mint, Debian edition) for security reasons. That was back in 2009, and while I've moved into 'what works best' mindset, I have to say I'm very happy about having moved to LibreOffice and away from Word.
LibreOffice can be used across most platforms and OS-es; I use a Mac, a Linux Debian box and a Windows box (the latter usually for gaming and entertainment) and they work, from my own personal usage, with no discernible differences for a simple end user like myself. So you do not have to move to a Linux OS just to use LibreOffice.
In fact, I have not used all of LibreOffice – the two which I use the most are LibreOffice Write and Calc, the latter being a spreadsheet program which I keep track of grocery shopping and house budget with.
I'm not here to convince people to make massive jumps away from unfamiliar OS but simply to illustrate that if you do decide to switch from MS Office to LibreOffice, you'll find that there is very little to worry about in terms of learning curve – especially if you use it primarily for documents and writing – in which case, it'll be LibreOffice Write you'll care about the most.
I also use LibreOffice Write for the majority of formatting for both ebook and print books – that is, the formatting of inner book content. As I've thus far only made books with only text, as of this post I can probably comment only on that. But for now, this post is concerned with how LibreOffice Write looks and on the very basic, works.
This is a post done mostly in response to some comments in Mad Genius Club's post  "Formatting for Print – Revisited." I just found it easier to quickly snap off some screenshots and make this post.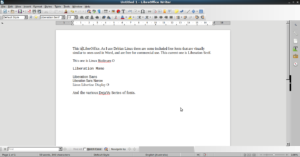 Click on the image to see a bigger version. That said, the rest of this post will be behind a jump.
The most basic concern would probably be the file formats and whether you can read .doc / .docx files from MS Word on LibreOffice. Short answer: Yes. You may get asked if you want to convert so that you can read it on LibreOffice – go ahead and do that if it happens (I'm afraid I haven't read any .docx files in a long time). It's simply to give permission for you to read the file in Write.
Write is also capable of saving to formats readable in MS Word/Office. Also, exporting to PDF. If exporting to PDF make sure you have all your formatting done in Write first, including any embedded images. LibreOffice write's default format is .odt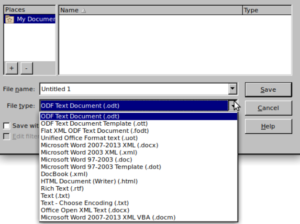 Fonts are also of no worry; there are likely to be open-source versions of the most common ones, as per the sample text I typed up, and a few more examples in the image from the drop-down box below. LibreOffice also is capable of reading any fonts installed in your font folder and can be used as you wish.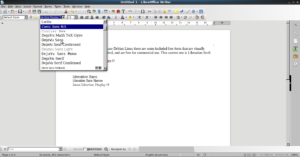 The Edit function has the following familiar tools:
As do the other functions. (click on the images to see better.)
As
I usually use Insert: Page break to ensure that the next chapter will be on a new page and not end up being on the same page as a chapter ending.
Insert: Comment is really, really useful when you're doing editing. You can highlight the text with highlighter and write your comment in a comment box. I'm afraid I haven't really tried to use this much – my editor does, however, and it's SUPER HELPFUL. I imagine this would also be useful for alpha reader reactions and beta reader notes as well!
I suppose there is a way to edit the author of the comment and the highlighted colours changed, but I have not tried this out. If you have, please comment! I'm sure it'll be useful to someone reading this post!
Styles has the stuff I used the most in order to set up chapters for print and ebook formatting. The POD service I use, Lulu, has free downloadable templates that I copy the manuscript text into later and then format as necessary. As there are other services that use .pdf, I format as I need then export to .pdf. You may need to consult your print/ebook service for their preferred formatting guides. To export to .epub, I've used Calibre, which is something I usually use to read ebooks on when I want to read them on my Linux box. (Especially handy, when you want to read books from Gutenberg.org …)
The dictionaries and thesauruses, I imagine, can be downloaded and installed; and you can also add your own words as necessary.
View seems to handle your toolbars and such. I have demonstrated how the window changes if you toggle on View: Styles and Formatting below.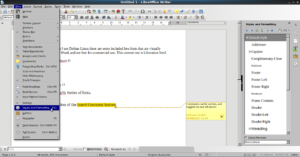 Updated on Feb 12, 2018:
LibreOffice supports export directly to epub as well as PDF.
Finishing this off with a TL:DR summary:
LibreOffice can be used across Windows, Macs and Linux OSes.
LibreOffice Write has a very similar look and performance to MS Word.
Has the ability to save to multiple common formats, as well as export to PDF (and now, epub ebook format as well).
Very low learning curve, in my opinion
Useful for writers and potentially for getting feedback from multiple alpha/beta readers
Free, Open Source program (originally a fork of Open Office, but now stands solidly on it's own.)
I'm sure this may be woefully inadequate as a post but as I noted before, this was meant to simply give folks curious about it a quick look at the program via screenshots and some small commentary from a pretty basic user's point of view. So I hope that this post is useful for writers and other folks curious about using LibreOffice, especially LibreOffice Write.
My children use LibreOffice for school purposes with no issues, so if you're a parent perhaps that tidbit will help as well. ^_^