Easy Chocolate Cake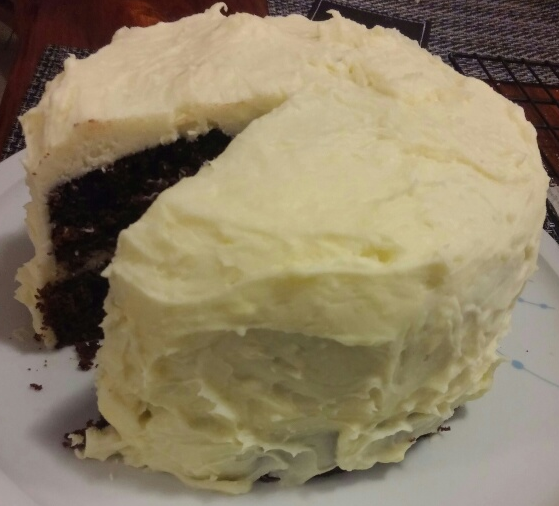 This is an adapted version of Marta Stewart's 1 bowl chocolate cake
It's not as heavy as mudcake, with a good 'chewy' mouthfeel, and despite the sugar, isn't sweet tasting. Combined with the icing, which isn't that sweet either it makes for a rich cake that makes you feel like you're eating something decadent enough to slice thinly and enjoy with tea or coffee after dinner, or with friends in the afternoon. The recipe makes 1 8-inch double layer cake. The version pictured above was my successful test; when I made this for Rhys' birthday, I tinted the frosting blue; one of his favourite colours.
Easy Chocolate Cake
Dry Ingredients
3/4 cup unsweetened Dutch cocoa powder, plus more for pans
1 1/2 cups all-purpose flour
1 1/2 cups raw or brown sugar
1 1/2 teaspoons baking soda
3/4 teaspoon baking powder
Wet ingredients
1 teaspoon salt
1 tbsp instant coffee granules / powder
2 large eggs
3/4 cup low-fat buttermilk
3/4 cup warm water
3 tablespoons safflower oil
1 teaspoon pure vanilla extract
Preheat oven to 350 F/ 180 C degrees.
Butter or spray with canola oil two 8-inch round cake pans (2 inches deep); dust with cocoa. Wrap the outside of the pans tightly with baking foil if using a springform pan, or if the bottom helpfully comes off.
Sift together cocoa, flour, sugar, baking soda, baking powder, and salt into the bowl of a mixer. In a measuring jug measure the wet ingredients and mix them together lightly. Beat on low speed until just combined. Raise speed to medium. Beat until smooth, about 3 minutes.
Divide batter between pans. Place each pan onto a baking sheet. Pour water into the baking sheet until it comes up 2-3 cm on the side of the cake pans. Place into oven. Bake until set and a toothpick inserted into the centres comes out clean, about 35 minutes. Let cool for 15 minutes. Turn out from pans. Transfer, face up, to wire racks. Let cool completely.
Spread 2 cups frosting of your choice onto top of 1 cooled layer. Top with remaining layer; frost top and sides with remaining 2 cups frosting.
Myself, I used a slightly adapted version of Martha Stewart's Cream Cheese Buttercream Frosting.
Cream Cheese Buttercream Frosting
1 (8-ounce) package cream cheese, room temperature
1/2 cup (1 stick) unsalted butter, room temperature (half a cake of butter)
1 (1-pound) box / 4 cups confectioners' sugar
2-3 teaspoon vanilla extract
Place cream cheese and butter in the bowl of an electric mixer fitted with the paddle attachment and beat until creamy, about 30 seconds.
With the mixer on low, slowly add sugar, scraping down the sides of the bowls as necessary.
Add vanilla and increase mixer speed to medium. Blend until frosting is fluffy, about 1 minute.
The cream cheese lends a slightly sour contrast and balances out the sweet, preventing the whole thing from being overwhelming. I liked it!
Note: I used the cake recipe to make a batch of cupcakes; use 1/8 cup of batter per cupcake indentation. Makes at least 24. (and some extra)
Save