And Linus Torvalds?
https://twitter.com/hashtag/istandwithLINUS?src=hash
Oh man. I seriously need to buy me that popcorn machine, stat. It is now a necessity.
http://arstechnica.com/business/2015/01/linus-torvalds-on-why-he-isnt-nice-i-dont-care-about-you/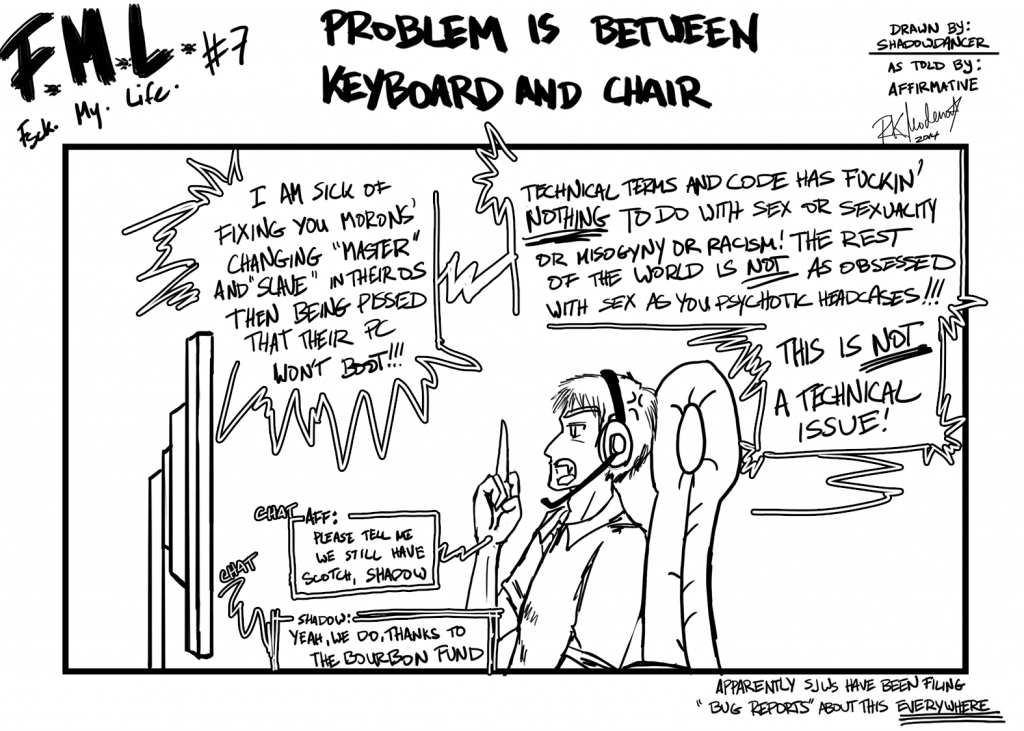 First off, you pretentious fucking douchebag SJWs, code, of ANY type will not give two shits of a rat's ass about your hurt feelings, who you fuck, what you chop off or stick onto you, or what political opinions you hold. You fuck up your code no amount of crying and whining and throwing ickle tanties will make it forgive you and work. I'm no programmer, but just fuck up basic HTML tags and well, we've all been there. Type in the wrong command – oh wait maybe most of them don't even know that. Never mind!
But seriously now, there's nothing more coldly uncaring of gender, race, social or economic class or any of those silly irrelevant things as programming. Either your code works, or it doesn't. Either your program works, or it fails miserably and needs debugging – in which case fuck you, find it, fix it. All it cares about is whether or not you have the skill to make it work. It does not care whether the fingers that typed across the keys belong to a white or black or green skinned person, nor does it care whether you have a penis or a vagina, or neither, or both, or like to suck cock or lick twat or dress up in a fursuit. It does not care if you are in a wheelchair or have massive tits and swing both ways.
None of that matters. What DOES matter is the pure, unadulterated unforgiving meritocracy of being able to make the hardware and software interact in the way it needs to, to bring about a result.
Really, it boils down to the simple reality that unmasks SJWs and the left with the cold hard truth: When it comes to true, brutally blind equality, they can't handle it. They don't want to deal with meritocracy, or skill, or truly even ground, they want everything handed to them on demand, or tantrums, life destroying and slander shall ensue!
Boo de Q_Q harder.
Linus Torvalds does not care about your fucking little fee fees. All he cares about "is quality and merit comes first and everything else comes second, and he doesn't care if he offends people in this regard" – and frankly, that's pretty fucking fair of him. None of this diversity in programming bullshit – I don't give a crap if the person doing the code or writing the program is a girl or a guy, or likes to fuck a guy or not, or what their political opinion is. I really don't. All I care about is 'can this person do the job? Does that shit work? Is that program legit or does it have hidden malware?'
Don't like that? Then make your own fork or program.. oh wait, no you can't unless you have the skills, and since there's more Q_Qing than actual skills to make stuff happen… we're left with people just throwing massive tanties again.
edited to add this quote:
This is triply true in engineering/development. It's not like marketing or HR where everyone is special and an all-day meeting constitutes productive work, technical work is very well-defined with quantifiable, testable results where there's not much room for second place. The winners in this space are those who Get Shit Done, not those who have the most friends or the most politically-correct agenda. And you will not Get Shit Done if you prioritize your team's DNA over their skillset. Seriously, social skills do not mean a damn thing here–either your robot is the biggest, baddest mofo in the room and it crushes everyone else's souls with its godlike power, or it's not and its your souls getting crushed by someone else's godbot. There's something to be said for being able to deal with other humans when necessary but it's a secondary skill, and one not generally used as companies tend to keep engineers as far away from the customers as possible.

Linus is the ultimate non-discriminating manager. He does not care who you are or what you look like as long as you're good at what you do, and he won't tolerate excuses. Which is exactly why diversity fanboys hate him so much–they don't actually want an identity-blind society, they want an identify-focused society which simply flips the discrimination in favor of gender-studies weasels. They have to tear him down because, like Trotsky to Stalin, he vividly shows that what they claim to want is vastly different from what they're actually implementing.
Yep.