So I was writing about Tazukuri in my Takeno Gohan recipe, and after looking at a few recipes on how to make Tazukuri, I felt I could make my own twist on it – a bit closer to the recipe made by Seakid, maybe.
It turns out that I had already thought of doing this, as my husband remembered that I had some of the dried dilis in a package in the fridge, shoved into the back. I had the rest of the ingredients in my pantry, so seeing as today is New Year's Eve, I figured, why not? It looked like something I could do while Jaenelle was napping after a feed.
The method described in the recipes and youtube were pretty straightforward, so I used that as a base, but used different proportions of ingredients.
For one thing, the dried dilis definitely needed several sprays of canola oil while I was toasting it.
That looks better, doesn't it?
I actually had the different liquids already in a small bowl before I poured it in. Didn't quite expect the sizzle, so watch out! Stirred it until it looked thick and the sugar got melted.
I poured the toasted dilis back in and stirred it all until it was coated, but I was not satisfied with how it was sticking. On a brainstorm I sprinkled another two tablespoons of sugar over the dilis and stirred and stirred. Later, when I told my mom about this, she told me she once saw a woman stir-frying dried dilis while constantly sprinkling sugar into the pan. She felt that it was a lot of work!
Look at that delicious candied and coated dilis, with bits of sugar still visible…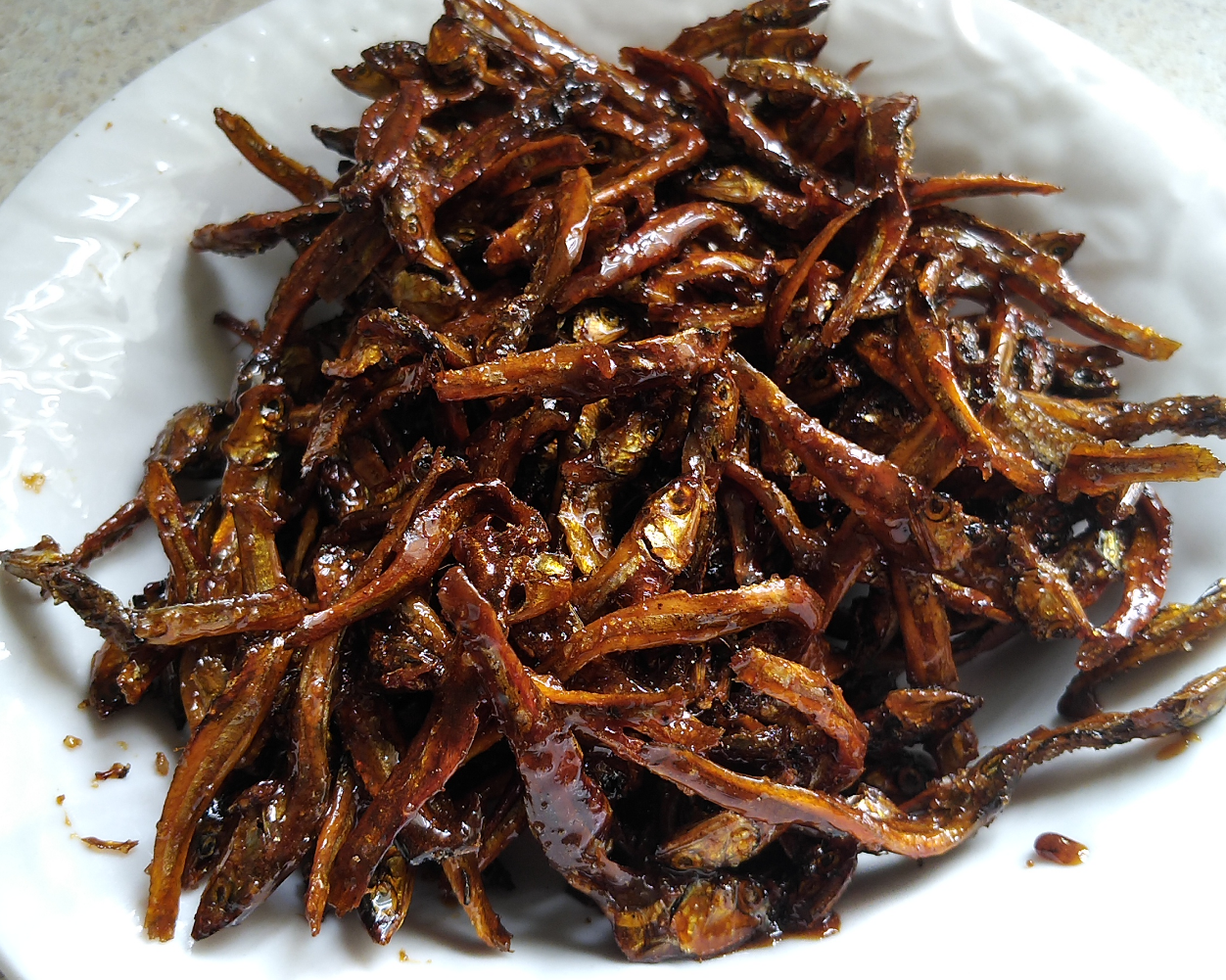 A hundred grams of this seems like it's not enough. I probably could have stopped earlier, but I wanted to make sure the sugar was well melty-candy stage. Perhaps I will sprinkle a little pink salt over a small amount, just to see how it tastes.
Edited to add: I found later that it was a bit hard to separate the candied fish. So after coating the fish in the sauce and sugar, spread the dilis out on a baking tray lined with baking paper and sprayed with oil, and spray the dilis with a light coating of oil. This keeps the fish from being a sticky, fishy ball of taffy, which while delicious, is hard to manage with a chopstick.
Candied Teriyaki Tazukuri Dilis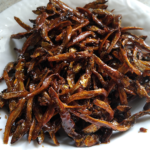 Great as a snack with beer or a topping for hot, freshly cooked rice, this is a variation of traditional Japanese New Year's Tazukuri, and inspired by a similar snack made by a Filipino company called Seakid.
100 g dried dilis fish ( )
Oil spray
2 tbsp cooking sake
2 tbsp hon mirin
3 tbsp soy sauce
4 tbsp brown sugar
1-2 tbsp brown sugar (additional, separated.)
1 tbsp cayenne pepper powder (for a spicy version, optional)
In a pan over low heat, pour dried dilis into a frying pan and stir, spraying with oil as you stir until the fishes are individually coated and shiny. When a toasty fish smell comes from the pan and the fish is a golden brown, set the dilis aside. (about 10-15 minutes)
Pour the sake, mirin, soy sauce and brown sugar into the pan, and stir as it boils until it thickens slightly and the sugar is dissolved. (roughly 7 minutes)
Add the toasted dilis back and stir and toss gently in the sauce. When the dilis is coated, sprinkle as you stir the additional tablespoons of sugar, which will candy the fish and sauce together. (an additional 10 minutes or so.)
Pull the spatula back now and then to check the state of the sauce. When you see little threads of sugar pulled from the sauce, it's done.
Remove from heat and pour onto a paper-lined and oil-sprayed baking tray. Spread fish across tray and spray with a bit more cooking spray to keep the candied dilis from sticking together. Transfer to a serving dish or a storage container.