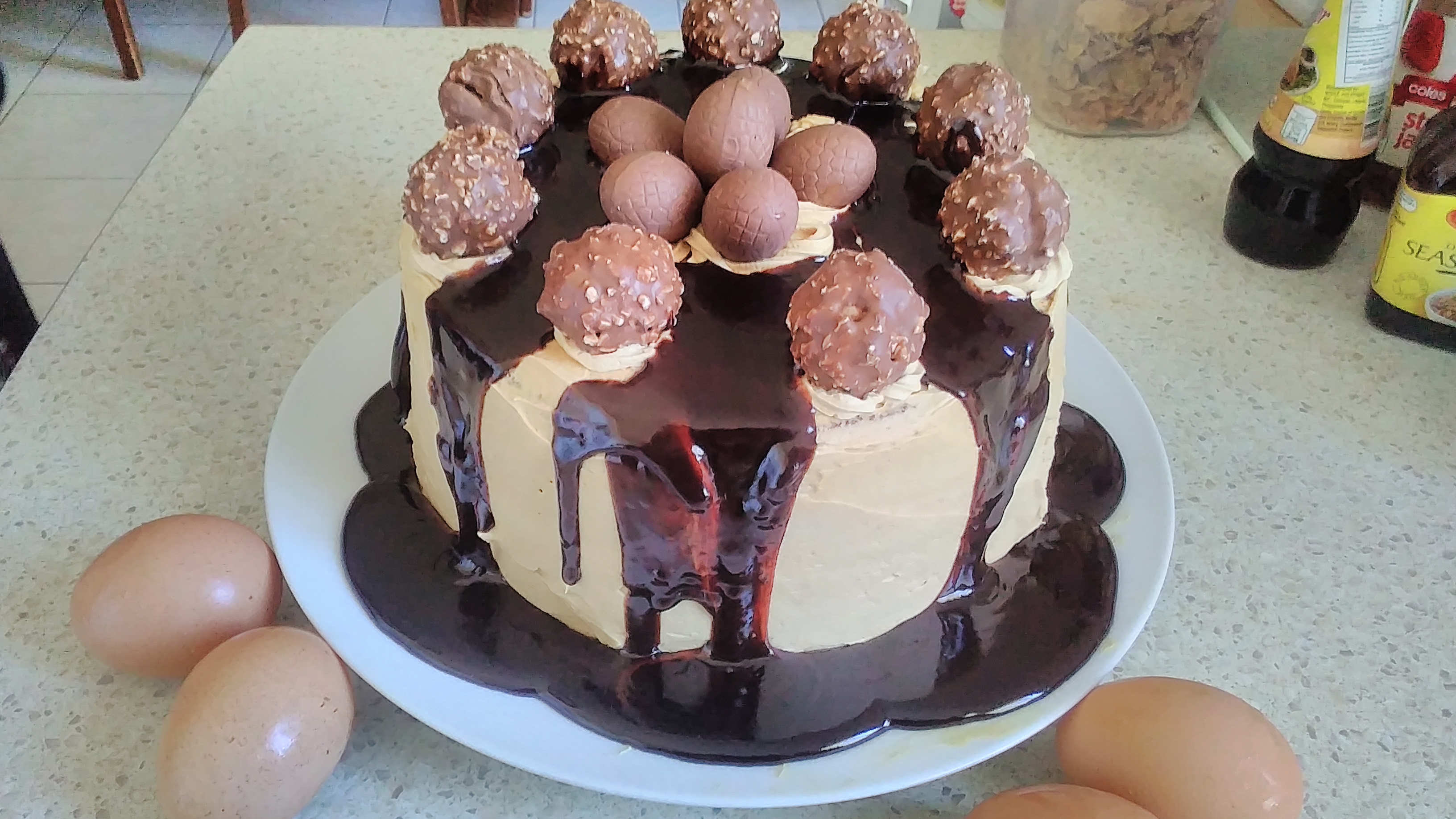 I loooove coffee walnut cake. Luckily for me our grocery chain Coles has them for less than 10 AUD and it is omg scrumptious.
But for my birthday, I wanted a bit more Ferrero Rocher-ey taste; more chocolatey, maybe a bit of Nutella… I still wanted the coffee buttercream though.
I made this cake for both my birthday and again for Easter, which is why the above cake has mini Cadbury Creme eggs nested in the middle.
Maybe someday I'll remember to take a photo of a cake slice instead of going 'om nom nom' right away.
Maybe.
Until then, have a recipe!
Hazelnut-Coffee Cake with Coffee Buttercream
If making cake from scratch:
3/4 cup unsweetened Dutch cocoa powder plus more for pans

1 1/2 cups all-purpose flour

1 1/2 cups raw or brown sugar

1 1/2 teaspoons baking soda

3/4 teaspoon baking powder

1 teaspoon salt

1 tbsp instant coffee granules / powder

3 large eggs

1 teaspoon pure vanilla extract

1/3 cup milk

1 cup hazelnut meal

300g sour cream
If making using cake mix:
1 Devil's Food cake mix
1 cup hazelnut meal
300 g sour cream
1/3 cup milk
3 eggs
1 c vegetable oil
For buttercream frosting:
250g soft butter (I use salted, but you can use unsalted if you wish)
3-4 cups icing sugar / powdered sugar
2 tbsp instant coffee powder or granules
½ tbsp vanilla
2 ½ tbsp hot water or hot milk (or more as required, up to 1/4 c)
Make cake:
Prepare the baking pans. Spray with cooking spray or brush with melted butter. Dust with flour and ensure the pan is coated. Shake out the excess. Wrap the outside of the pan tightly with baking foil if using a springform pan, or if the bottom helpfully comes off. Preheat oven at 180 degrees C.
Mix all dry ingredients together in one bowl, except the coffee powder. In cake mixer, mix all the wet ingredients and the coffee powder, except the sour cream. Add the dry ingredients, half a cup at a time, until well incorporated, and then add the sour cream.
Pour into prepared 2 8 inch cake pans. Place each pan onto a baking sheet. Pour water into the baking sheet until it comes up 2-3 cm on the side of the cake pans. Place into oven and bake at 180 degrees centigrade / 350F degrees for 45 minutes or until a toothpick inserted into the middle comes out clean. You may also use a single large cake pan. Cool cake on a cooling rack, top down to help flatten the top (there will be a round top.)
Make the frosting: Cream the sugar and butter together. Dissolve completely the coffee powder in the vanilla flavour and hot liquid, and pour into the butter mixture on medium mixing speed. When frosting has completely incorporated the coffee liquid, turn the mixer's speed on high and beat for 3 minutes.
Frost cake, either as two layers or single, and decorate with Ferrero Rocher candies. You may also melt 1 cup milk or dark chocolate pieces with 1/3c heavy cream in the microwave to make a pouring ganache before decorating with the candies, for a fancier result.