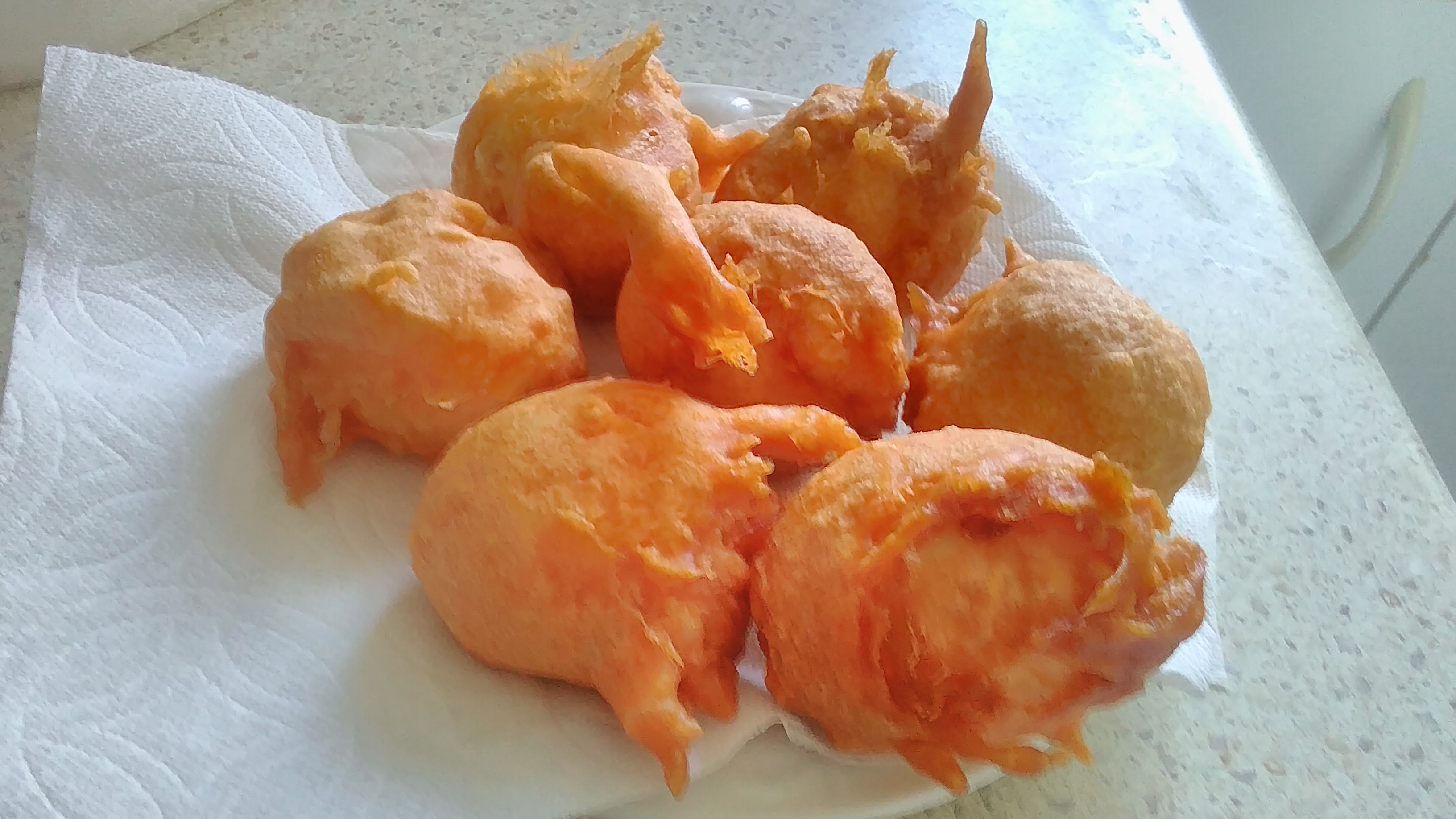 When I was a teenager, I encountered deep fried, battered hard boiled eggs for the first time. Mom and I were on our way home one afternoon and I smelled something delicious being fried at a street vendor's cart. There was a mound of orange bunlike things and he was heating up a couple for another customer. The odd orange tinted things were tokneneng.
Since I was curious, and they would make a fine afternoon merienda, Mom bought some, and selected the seasoned vinegar. We brought them home, eggs soaking in vinegar in plastic bags. After pouring them out into bowls we broke into the eggs with our spoons and swirled the hard yolks into the vinegar before taking a bite.
I was hooked. The batter was slightly sweet and soaked up the spiced vinegar, so biting into the now creamy egg yolk and white resulted in flavor squishing onto my tongue.
Their smaller cousins, made with boiled quail eggs, soaking in fishball sauce (different from the vinegar), was a staple of my college years. I would happily take a jeepney ride to UP Diliman to eat at one of the many vendors there.
I thought I would make some for Easter lunch and try out steaming eggs, as I discovered at my in-laws' kitchen, it results in a creamy egg.
Steam 8 eggs for 12 to 15 minutes. Drop the eggs into cold water to let them cool. While they cool prepare the batter and syart heating the oil to deep fry.
In a bowl mix 1 cup flour, 3/4 cups water, 2 drops yellow food coloring and 3 drops red, and a pinch of seasoned salt. Make a batter that is thicker than pancake batter, adding more water until it reaches a consistency you find best to work with.
Peel the eggs.
Roll eggs in a plate of cornstarch before coating the egg. Rhys sort of painted the batter on as the cornstarch formed a skin around the egg. Then he carefully rolled the coated egg into the hot oil. (Between 120 and 150 degrees C.)
When the batter is slightly puffed and the trailing bits crisp take the egg out with some tongs or a slotted spoon and put to drain on a paper towl coated dish.
Cook the rest of the eggs and prepare the vinegar sauce.
In a heatproof bowl measure 1/4 cup Datu Puti white or cane vinegar. Mix in 2 tbsps of Marca Pina or Silver Swan soy sauce. Dissolve 2 tbsps of raw sugar. Heat in microwave for 20 seconds then stir vigorously before heating for another 15 seconds.
Serve eggs in a bowl with about half a tablespoon of seasoned vinegar.
For spiced vinegar, you will need 1 tiny bird's eye chili, chopped, and 1 small shallot, diced fine, added to the above before the heating stage.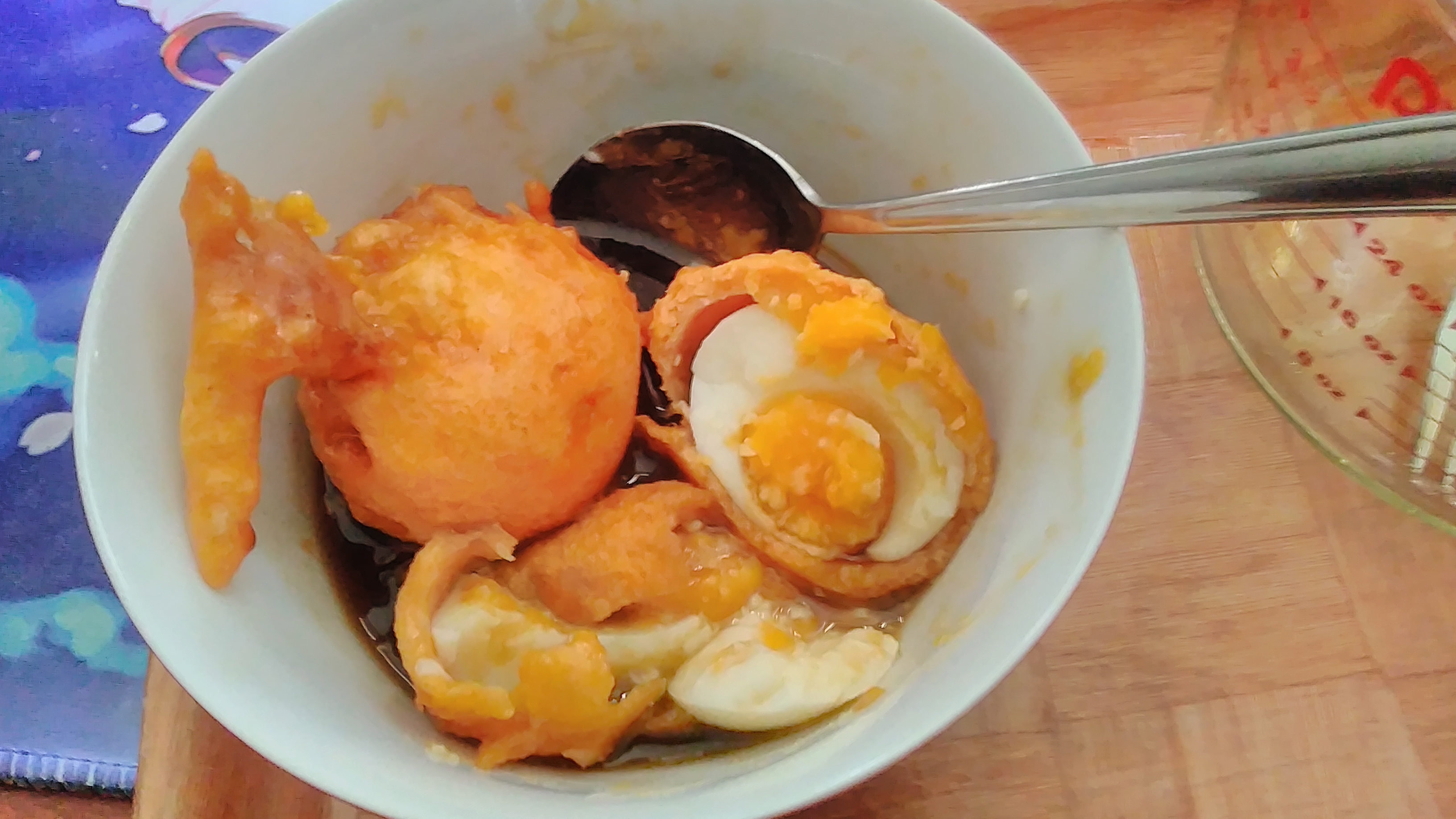 Happy Easter!