I promised to make Rhys apple muffins for Father's Day (it's in September, here in Australia) but I missed it by a day because that Sunday was eaten up by errands. I made these on the same day as the Sour Cream Chocolate Cake so you see the unfrosted cake sitting in the background at in one of the photos.
I started worrying that he wasn't having breakfast in the morning because he didn't have time for it; also it's not really pleasant to do morning PT with a full stomach. For those who want to cut the time a little, you can use 2 boxes of apple muffin mix. This batch was made with frozen blueberries.
When Rhys tasted these (after having had some of the cake!) he said that besides being delicious, it felt like a cross between a cupcake, a muffin and a scone, and that it'd be perfect with some cream or jam. The entire house smelled wonderful while we had them baking through dinner, and I wanted some for breakfast, with my tea.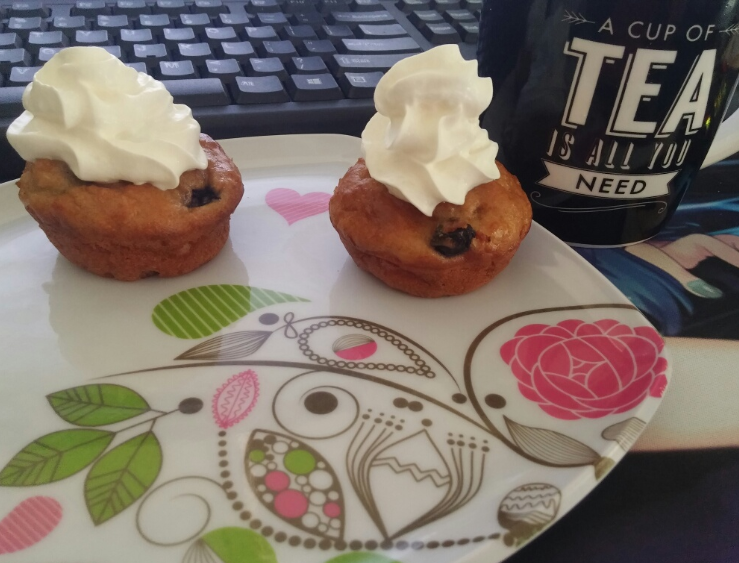 So I did.
Nom!
Save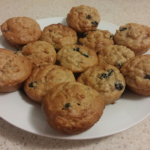 Sour Cream Apple and Blueberry Muffins
Ingredients:
2 1/2 cups plain flour
2 tsps baking powder
3/4 tsp salt
1/2 cup butter, melted and cooled
2 c brown or raw sugar
2 large eggs
2 tbsp vanilla extract
2 tsp cinnamon
1/2 cup milk
2 cups grated apple of your choice
300 ml thick sour cream
1 cup frozen or dried blueberries
Method:
Preheat oven to 180 degrees C
Line a 12 cup muffin pan with cupcake liner
Sift flour, baking powder and salt over a mixing bowl.
Using an electric mixer, beat together the butter and sugar for 2 minutes. Add the eggs one at a time. Add the vanilla and cinnamon and beat well.
Add the flour, shredded apple and milk gradually, beating in on low speed, until well combined.
Turn off mixer and gently stir in blueberries and sour cream. It will be okay if there are small lumps of sour cream. Stir until blueberries are well distributed.
Bake for 30 minutes until golden and cooked through
Transfer to a wire rack to cool.
Serve with whipped cream.