I promised to make Rhys apple muffins for Father's Day (it's in September, here in Australia) but I missed it by a day because that Sunday was eaten up by errands. I made these on the same day as the Sour Cream Chocolate Cake so you see the unfrosted cake sitting in the background at in one of the photos.
I started worrying that he wasn't having breakfast in the morning because he didn't have time for it; also it's not really pleasant to do morning PT with a full stomach. For those who want to cut the time a little, you can use 2 boxes of apple muffin mix. This batch was made with frozen blueberries.
When Rhys tasted these (after having had some of the cake!) he said that besides being delicious, it felt like a cross between a cupcake, a muffin and a scone, and that it'd be perfect with some cream or jam. The entire house smelled wonderful while we had them baking through dinner, and I wanted some for breakfast, with my tea.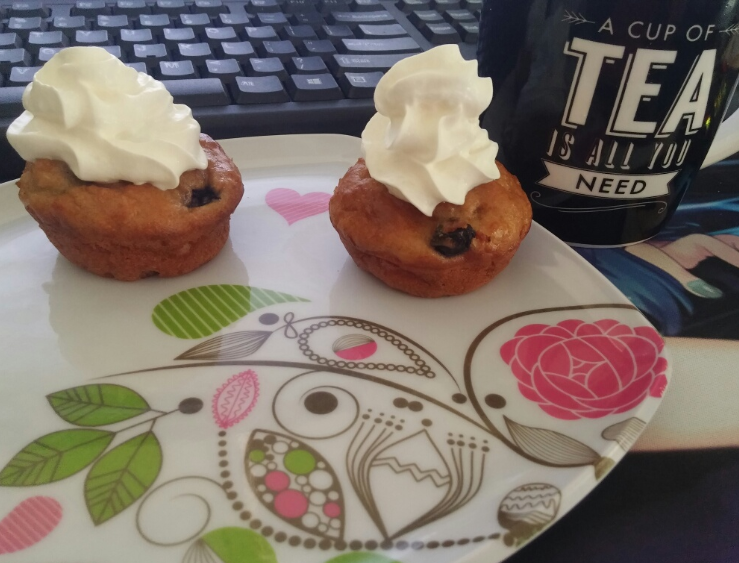 So I did.
Nom!
Save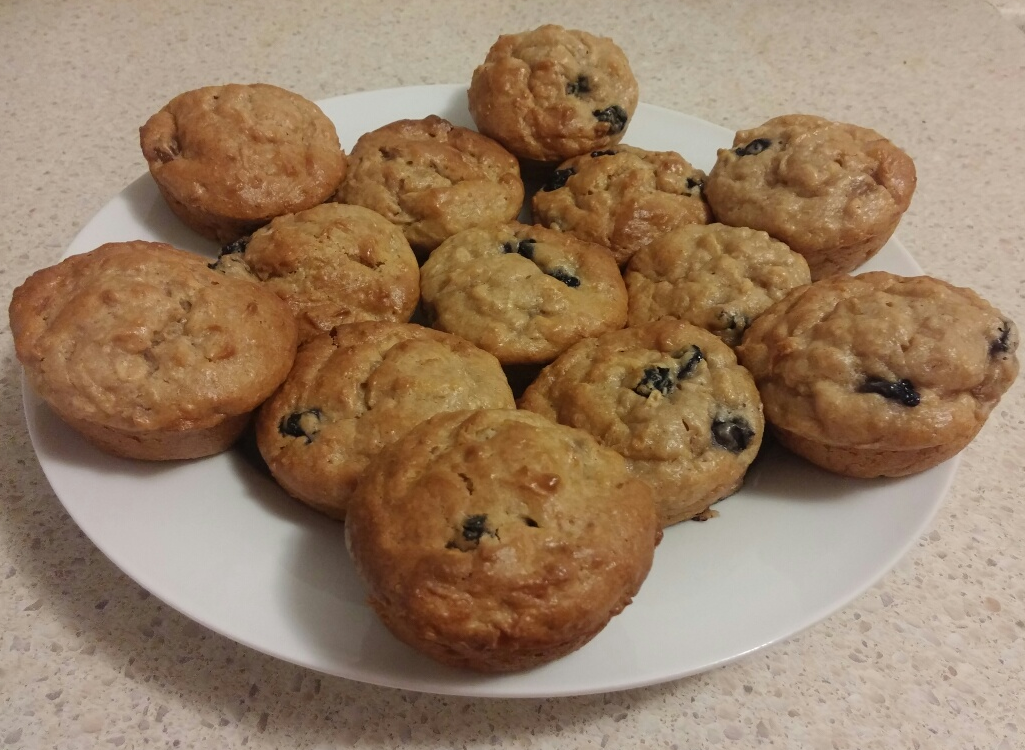 Sour Cream Apple Muffins
Flavorsome and fluffy, these muffins are a cross between cake, muffin and scone - and are perfect with a dollop of cream! Feel free to add additional berries/fruit, nuts or grains like quinoa. Put some in your lunchbox for a delightful treat! Substiute muffin mix (I used two) if pressed for time.
Ingredients
4 1/2

Cups self raising flour

4

eggs

1

tablespoon

cinnamon

1 1/2

cup

brown or raw sugar

1

cup

vegetable oil or melted butter

500

ml

thick sour cream

1

cup

rolled oats

Optional: Frozen or dried blueberries

raspberries, raisins, etc.
Instructions
Prepare muffin tins by spraying with oil, or wiping sides with oil or butter.

Mix all the ingredients in a large bowl with a wooden spoon. The grated apple makes this a little heavier than I'd like to subject my mixer to. Yeah, I made this one with a muffin mix, because I was in a rush.

Mix well, making sure you get all the 'dry pockets'. Fold in blueberries or other fruit/nuts as you wish.

Fill the muffin holes with about a heaping spoonful of muffin mixture.

Bake at 180 degrees C/ 350 F for 45 minutes or until a toothpick stabbed into one of the muffins in the middle comes out clean, and the muffins are golden. Garnish with cream if desired, and enjoy!
Notes
Makes 36 muffins. Can be frozen and reheated.