I made this cake for my son Damien's third birthday today as well as to celebrate the announcement of the first Dragon Awards, which was a joyful success and delight for the fans. Congratulations to the winners!
I was scrambling for ingredients to make a cake when I discovered that for my planned cookies and cream mini cheesecakes, I lacked CREAM CHEESE. The HORROR. I found a Duncan Hines Devil Food mix, and improvised, choosing to replace the milk/water required with 250ml-300ml of thick sour cream – I followed the rest of the required ingredients. The batter, once mixed, started trying to climb up the mixer, so I added 1/3 cup milk and mixed it in, on medium, then high, until the cake batter started resembling chocolate mousse more than it did a cake batter. I shrugged, prepared my pan, and scraped the bowl empty.
I must say, this is probably my new favourite cake. I'd been craving this particular cake, and have been assuaging that need with store bought sponge. This cake blew that need out of the water! It is a delightful, moist, but fluffy sponge; rich in flavor and light, almost like angel food, without the dryness. My hubby went for seconds!
Look at how delicious that looks!
Yes, I scraped that thick border of ganache off and put it on a slice. The ganache was a perfect pair to the cake, pure dark chocolate heaven against the not-so-sweet cake.
That beautiful, airy sponge texture, with a satisfying mouthfeel… I was in heaven throughout dessert! I didn't feel overwhelmed by the cake, but was satisfied with just a slice.
Thick sour cream may just be my new 'secret ingredient' for baking!
Save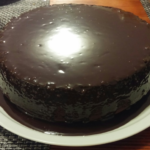 Sour Cream Chocolate Cake
Ingredients
1 box Devil's Food Cake Mix
3 Large Eggs
125g melted butter (or 1/3 c melted butter), cooled
300 ml thick sour cream
1/3 cup milk
Method
Preheat oven at 180 degrees c.
Prepare the baking pan. Spray with cooking spray or brush with melted butter. Dust with flour and ensure the pan is coated. Shake out the excess. Wrap the outside of the pan tightly with baking foil if using a springform pan, or if the bottom helpfully comes off.
Mix all the ingredients in a large bowl, on low, until just incorporated, then beat on medium high for 2 minutes until well blended.
Pour into prepared baking pan. Place pan onto a baking sheet. Pour water into the baking sheet until it comes up 2-3 cm on the side of the cake pan. Place into oven.
Bake for 45-50 minutes until toothpick inserted into centre comes out clean. Cool in pan before gently removing.
Frost with chocolate ganache or frosting of preference.