I made this cake for my son Damien's third birthday today as well as to celebrate the announcement of the first Dragon Awards, which was a joyful success and delight for the fans. Congratulations to the winners!
I was scrambling for ingredients to make a cake when I discovered that for my planned cookies and cream mini cheesecakes, I lacked CREAM CHEESE. The HORROR. I found a Duncan Hines Devil Food mix, and improvised, choosing to replace the milk/water required with 250ml-300ml of thick sour cream – I followed the rest of the required ingredients. The batter, once mixed, started trying to climb up the mixer, so I added 1/3 cup milk and mixed it in, on medium, then high, until the cake batter started resembling chocolate mousse more than it did a cake batter. I shrugged, prepared my pan, and scraped the bowl empty.
I must say, this is probably my new favourite cake. I'd been craving this particular cake, and have been assuaging that need with store bought sponge. This cake blew that need out of the water! It is a delightful, moist, but fluffy sponge; rich in flavor and light, almost like angel food, without the dryness. My hubby went for seconds!
Look at how delicious that looks!
Yes, I scraped that thick border of ganache off and put it on a slice. The ganache was a perfect pair to the cake, pure dark chocolate heaven against the not-so-sweet cake.
That beautiful, airy sponge texture, with a satisfying mouthfeel… I was in heaven throughout dessert! I didn't feel overwhelmed by the cake, but was satisfied with just a slice.
Thick sour cream may just be my new 'secret ingredient' for baking!
Save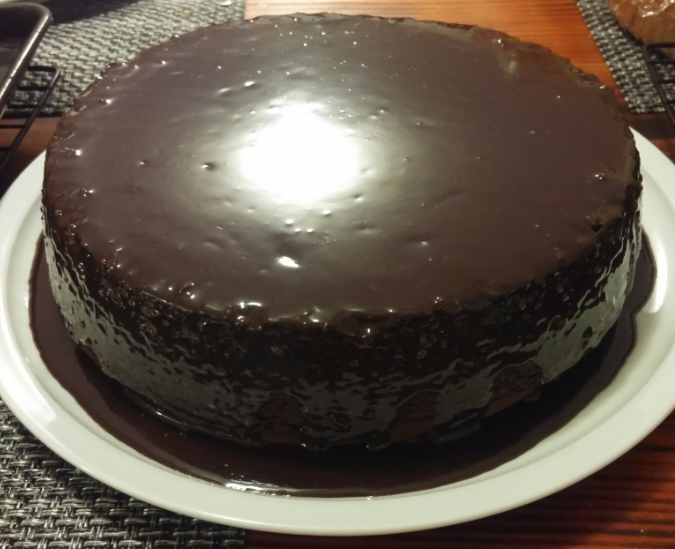 Sour Cream Chocolate Cake
The cake mix version of this is: 1 dark cake mix, with 250ml sour cream instead of the recommended amount of water or milk, plus 1/3c milk. The batter of this cake is quite thick, but don't be surprised if it ends up rather fluffy, with a moist, flavorful crumb. I frosted this with a dark chocolate ganache that I poured while still slightly warm.
Ingredients
For Cake

3/4

cup

unsweetened Dutch cocoa powder

plus more for pans

1 1/2

cups

all-purpose flour

1 1/2

cups

raw or brown sugar

1 1/2

teaspoons

baking soda

3/4

teaspoon

baking powder

1

teaspoon

salt

1

tbsp

instant coffee granules / powder

3

large eggs

1

teaspoon

pure vanilla extract

250

ml

thick sour cream

1/3

cup

milk

For ganache

225

g

dark chocolate

chopped

1/2

cup

pouring cream

225

g

dark chocolate

chopped

1/2

cup

pouring cream
Instructions
To make cake
Preheat oven to 350 F/ 180 C / 350Fdegrees. Butter or spray with canola oil 1 9-inch round cake pans; dust with cocoa. Sift together cocoa, flour, sugar, baking soda, baking powder, and salt into the bowl of a mixer. In a measuring jug measure the wet ingredients and mix them together lightly. Beat on low speed until just combined. Raise speed to medium. Beat until smooth, about 3 minutes. Beat on high until it resembles chocolate mousse more than it does cake batter. Pour into prepared pan, scraping the sides of bowl. Thump the pan lightly against the countertop to ensure batter is evenly distributed and to release bubbles.

Bake until set and a toothpick inserted into the centres comes out clean, about 1 hour. Let cool for 15 minutes. Turn out from pan onto a serving plate.
To make ganache:
Place chocolate and cream in a glass or ceramic microwave-safe bowl. Microwave on medium (50%) for 2 to 3 minutes, stirring every 30 seconds with a metal spoon, or until smooth. Stand at room temperature until thickened, or pour while still warm over the cake.