Rhys is the person who introduced me to Kickstarter, by showing me things that he backs. He's backed several projects I'm aware of, including some movies and comics, some games (both video game and otherwise) as well as art books.
So when Larry Correia linked a Kickstarter for an anthology he's participating in, I clicked the link.
It's the list of authors that made me sign up for a Kickstarter account, and set aside money to add to it. There are several familiar names, which my brain associates with 'Ooh, yay!'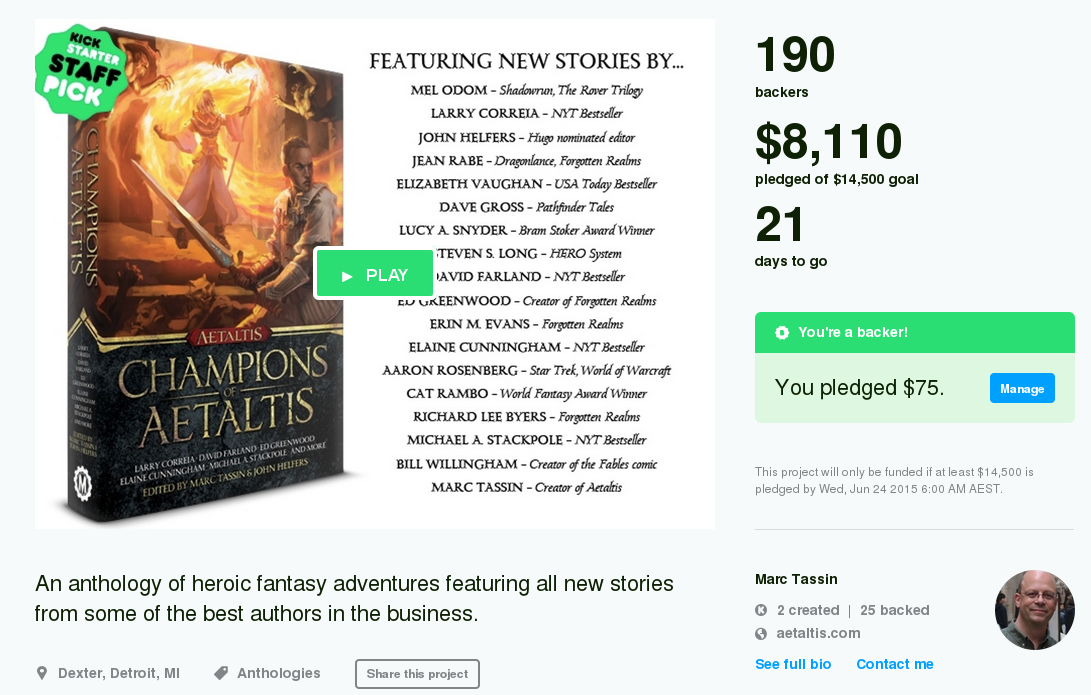 Pretty much, there goes my book budget for the month (that screenshot includes shipping), and every time I look, my brain goes "Worth it!" So I hope that it gets funded in full. I went for a hardcover simply because they're more durable and resist my rereading tendencies.
That list of names is sure to encourage lots of rereading. Those are some fine masters and mistresses of their craft there.
---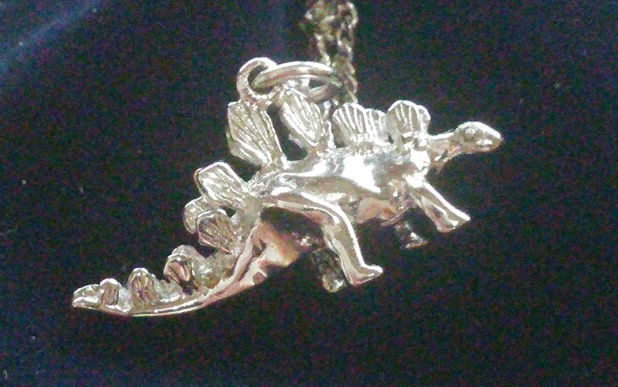 Rhys got me this charm, which I currently wear on a necklace as a pendant, during the weekend at Prouds (they were having a sale!) It reminds me of Brandon. I think I'd like to wear it on a bracelet eventually though; so I can add charms that remind me of my family. I got something there for Rune's birthday; though her birthday isn't for some months yet.
Brandon's loss is really hitting me hard of late, and I recognize the stage of grief I'm entering, as well as why. He would be five months old soon, and instead, it's almost two months since he died.
I miss everything. The feel of him in my arms, the softness of his cheeks, that euphoria-inducing soft sweet milk smell babies have, that intense, piercing gaze, that fierce personality of his, all the way to the squeaky noise he made when he was swallowing milk while he nursed: niyoop, niyoop, niyoop.
Brandon would have started to smile around now – as in, be able to pull it out at will. He would smile at random, usually while asleep, but he gave a happy gummy grin and baby wriggle once, when he heard Aff's father's voice, while Aff was showing him off. Since I was carrying him, I only saw it from the side, not in full. We didn't get a picture, alas, because it was a skype call via Aff's phone.
I hope I get Brandon's pillow back from the coroner. When Rhys isn't so swamped at work, I'll see if we can drop by the hospital sometime, because they said they'd take footprints and such before Brandon went to the coroner. Every memento now is important, because it's all we have left.
In recent conversations I've had (with Rhys and my mother), we talked about the boys' different personalities, which were evident even while they were in the womb. Vincent is the happy charmer, Damien the quiet observant one who'd rather be left alone, Brandon the temperamental meticulous grump. They were all very cute boys though, despite the different temperaments, and cuddle-bugs.
Speaking of cuddly cute things, I guess the need to cuddle and care for something has been overwhelming me of late. I want a pet bird; a cockatiel or budgie, one of the hand-raised ones that sit on your finger or shoulder. I miss having a cuddly little bantam, honestly, but I have to hold off on it for now.
I got Rhys to take me to a pet shop to soothe that urge a little by looking at budgies. They didn't have any hand raised ones that time.
Then, one afternoon, after he got home from work, Rhys showed me a picture he took while he was at work.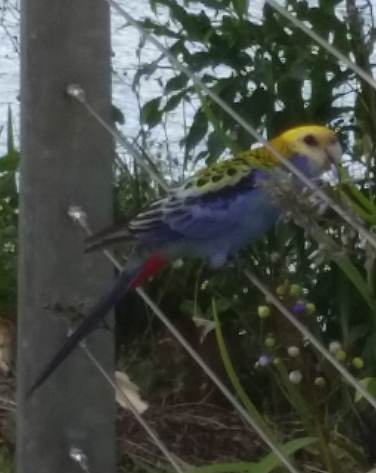 It looks like a budgie, but more colourful than any budgie I've ever seen! I want one!
I also want a book of Australian birds, so I can look these up!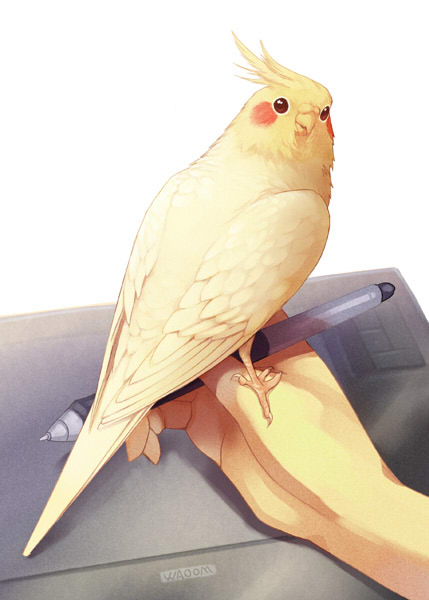 Art by Era/Travelling Bird/Fishball
Regarding birds, I ran across this wonderful pool over at Danbooru (while looking up 'scenery porn – the main reason I ever go to that site is the gorgeous, gorgeous landscapes – unwary beware though, there's lots of porn as well, so if that's not your thing, don't wander away from the link!)
It's an illustrated story of a girl and her pet bird done by a Taiwanese artist who goes by those handles listed above. While the text is in Japanese, you can hover your cursor over the text and a translation pops up. Click 'next' for the next page in the story. It's a sweet story, but also heartbreakingly sad – brace yourself for feeeeeeeels!
---
I've started playing Lineage II again; because Aff felt it would be a good idea for me to chat to folks; and it seems like we've been missed. So we logged in for a siege yesterday, and it was lots of fun. Later on, Aff told me about how Wulfric teased him later, saying, "What did you do, put up the bat-signal or something? There must have been twenty or thirty people who came back to game just because you did!"
They've made a certain area spawn really powerful mobs (level 100+) so we tried it out. There's a specific guardian-type monster there that has a skill that oneshots most of the party.
I'd logged into Minecraft this morning so I could chat with Pixie-chan while I had breakfast. She asked me if I was going to log in, and I said I wasn't sure because I had work to do. She said "Log in." So I did and we played for several hours and before I knew it the kids were home, and Rhys was home and we needed to go out for grocery shopping.
I did the work I had to do while we were playing, so I wasn't completely slack.
I restocked on jelly beans, because I ran out. I'm rather sad that Coles took out their home-brand gummi bears, because outside of the Haribo ones, they're the best I've had. I hope they bring them back someday!