Taking a few moments to stop stabbing my fingers with a needle.
A couple of nights ago, I noticed this on Monster Hunter Nation:
The resulting excited happy squee woke Rhys.  I am seriously happy that Larry liked it so much! That's my first solo endeavour, and this, in my opinion, is even better than winning the contest I originally wrote it for. Thanks, Larry! Thanks everyone, who bought Sparrowind!
The past couple of days have been very busy though and I didn't really have a chance to look at the site stats on the day. I wonder what it was? Oh well, this is what it looked like today when I got the brain to check.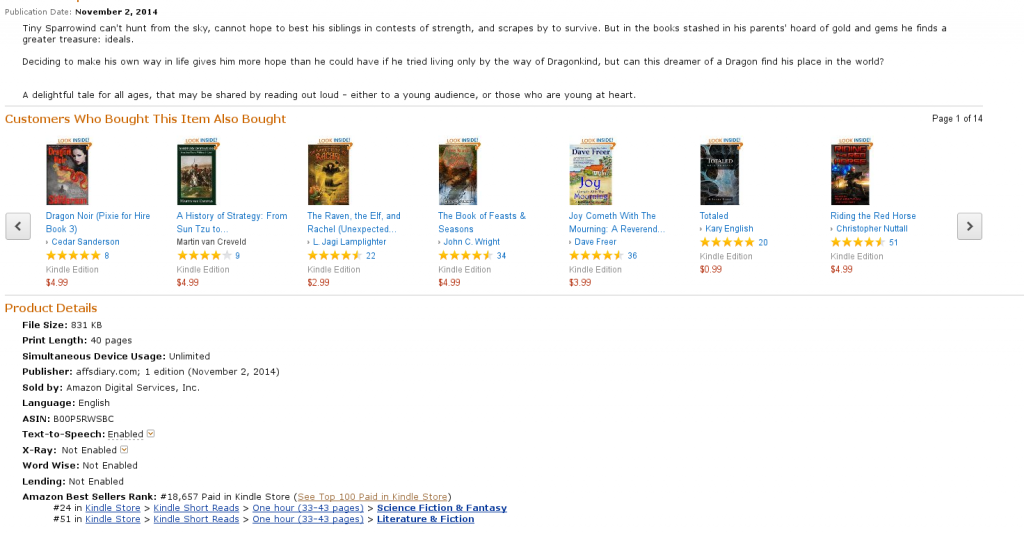 Ranked 24 in the Kindle Short Reads for Sci-Fi and Fantasy, and 51 in Kindle Short Reads Literature and Fiction.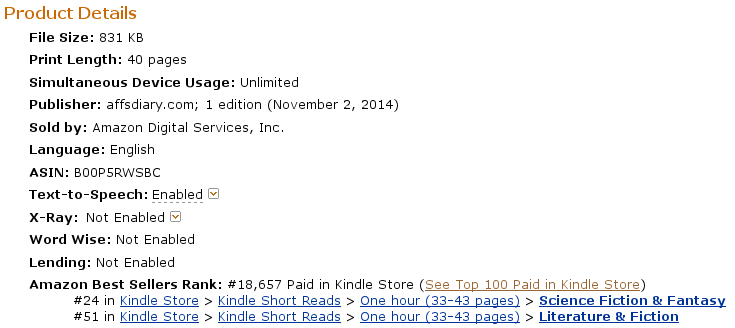 That made me smile, and lifted my mood to actual happiness*. Thank you, everyone who bought the novelette, and I hope you enjoyed it!
Edited at 16:35, Wed 22 April 2015:
It went up some more!
I also sold 179 copies on Kindle; and that's just the Kindle sales. Yay!
On more writer-chatter:
I need to finish Aff's Diary: Blessed Hope so we can get to the editing stages of that book. I'm looking at 342 pages (because of Lulu's formatting) so far, and I'm probably 85% done. I managed to write quite a bit when the grandparents took the kids out walking last weekend to hike up Castle Hill. That sounded far more strenuous than I can tolerate so I decided to sit at Longbow Bar and Grill at the Strand and worked through lunch, a lovely treat by my very understanding hubby.
I've already started writing on the expanded, full novel Sparrowind though, which, due to previous feedback I had gotten last year, is the first in what might be a series. On this my plans are still ongoing, and un-derailed. Being my own actions, this is something entirely within my control, and something I can focus on.
I've also been working with Aff / David on a draft of a new United Fleet novel.
*For context on what that means, I'm currently sewing a pillow and pillowcase for my son to 'take' with him in his coffin, and looking for music to play at his funeral. For the second time in my life.
I'm taking that bright spot and treasuring it, because I know my life will always be dimmer for the loss of my babies. First Damien, and then Brandon. I miss them so much. I dedicate my work to my loved ones, both living and dead.
Our stories aren't over yet.